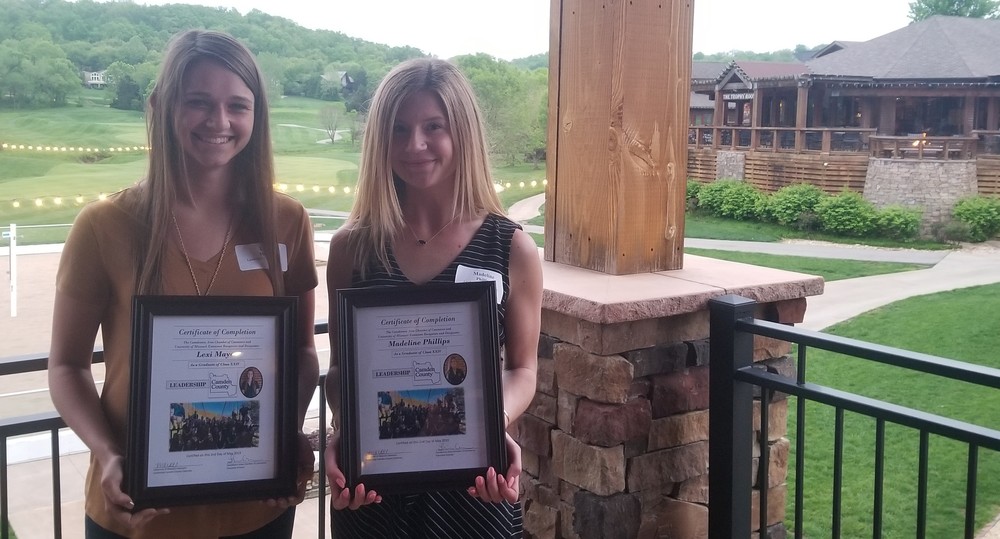 Mayer and Phillips Complete LEADERSHIP Camden County
Josh Phillips
Friday, May 03, 2019
Congratulations to Lexi Mayer and Madeline Phillips! Both students graduated from LEADERSHIP Camden County and were honored at a ceremony last night at Old Kinderhook. In its 24 year history, over 600 individuals have graduated from this program which is sponsored by the Camdenton Area Chamber of Commerce and the University of Missouri Extension of Camden County.
On the Camdenton Area Chamber of Commerce Website LEADERSHIP Camden County is described as follows:
During the 9-month program, participants had an opportunity to learn about a number of aspects of the community, including history and natural resources; state government; social services; health care and education; economic development and tourism; law enforcement and the legal system; and infrastructure. Several sessions focused on leadership skills, group dynamics, team building, and creating a vision for the future.
The goals of the program are to enhance the leadership skills of participants to improve Camden County's future; familiarize participants with the community's opportunities, needs, problems, and resources; identify and analyze current economic, political and social forces affecting the community's future; establish effective peer relationships among participants; provide a common ground for communications between participants and community leaders; and to educate participants on how to move people and ideas to action.
#MCPirates