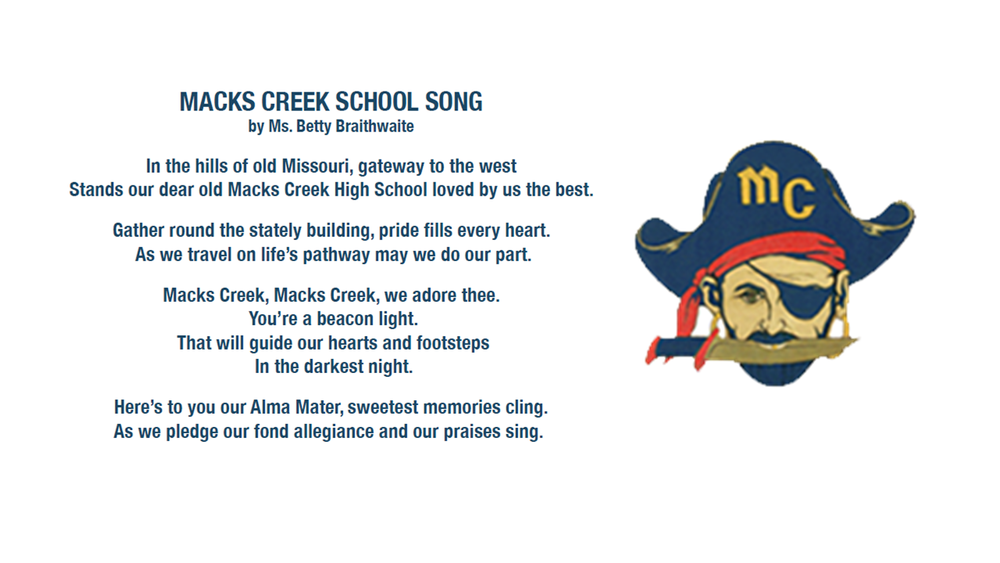 Rekindling a Tradition - The Macks Creek School Song
Josh Phillips
Friday, March 06, 2020
In the 1960's, former Macks Creek music teacher, Ms. Betty Braithwaite penned the words to our school song. Ms. Braithwaite set the song to the tune of "Kellerman's Anthem" (for those of you who are fans of the movie "Dirty Dancing", it is the song the staff all sing at the very end of the movie). As Ms. Braithwaite taught the song her students, it quickly became popular. Many alumni have fond memories singing it at special occasions such as graduation and homecoming.
In an effort to evoke the same sense of camaraderie shared by alumni reminiscing about their school days as Macks Creek Pirates, our school will resume the proud tradition of teaching this song to students. Music teacher, Ms. Jennifer Hopkins will now bear the torch lit by Ms. Braithwaite and carried through decades by countless alumni. Ms. Hopkins is excited to teach this beloved song to our students during music class. Elementary principal, Dr. Jori Phillips is very excited about the opportunity to have the entire student body sing our school song together each month during the Rise & Shine Character Pep Rally.
Our district hopes patrons will join us in rekindling this tradition by singing with us at special occasions throughout the school year. As a patron recently shared, singing our school song again "would be something our students could remember forever and a tradition that is brought back to light after being dimmed for decades." In the event you need to "brush up" on the lyrics or if you haven't heard them before, here is our school song:
MACKS CREEK SCHOOL SONG
by Ms. Betty Braithwaite
In the hills of old Missouri, gateway to the west
Stands our dear old Macks Creek High School loved by us the best.
Gather round the stately building, pride fills every heart.
As we travel on life's pathway may we do our part.
Macks Creek, Macks Creek, we adore thee.
You're a beacon light.
That will guide our hearts and footsteps
In the darkest night.
Here's to you our Alma Mater, sweetest memories cling.
As we pledge our fond allegiance and our praises sing.
#MCPirates