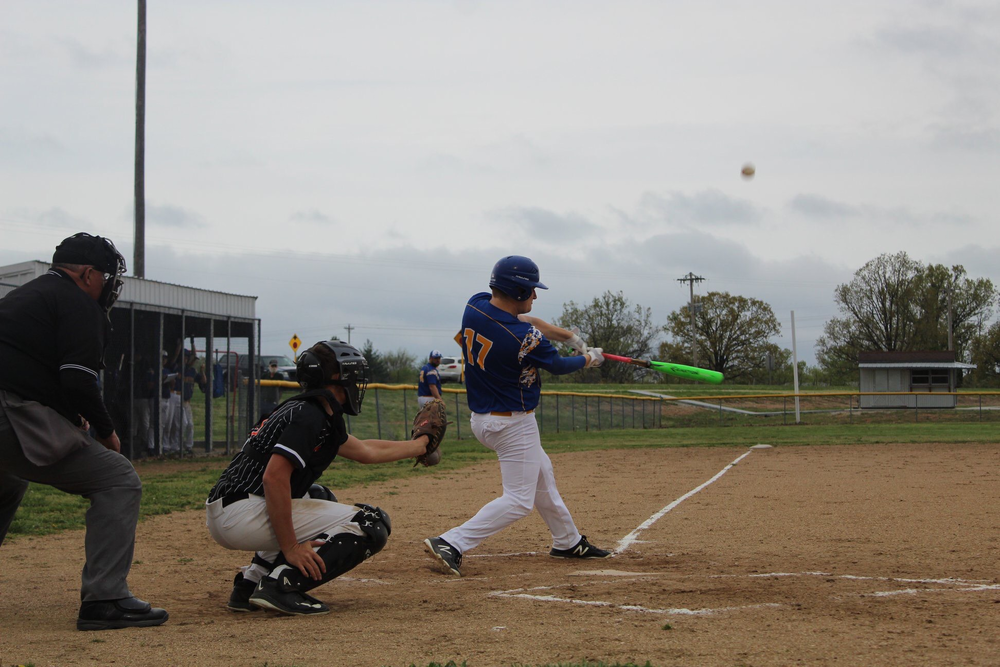 Pirates Snap Skid with Win Over Richland
Jason Trusty
Tuesday, April 23, 2019
MACKS CREEK - Macks Creek returned to action on Tuesday night after a week hiatus and and snapped a three-game skid with a 9-5 victory over the visiting Richland Bears.
Richland started the scoring with an unearned run in the top of the first. Austin Butteris reached on a ground ball to third that was thrown by the first baseman. Bridger Lobland reached on an error by the shortstop. Lobland would be erased on Bryce Johnson's fielder choice to second before Joshua Vire drove in Butteris for a 1-0 early Bear lead. Macks Creek was held scoreless in their half of the inning. Colton Walter reached on a walk and stole second but would remain stranded.
Richland went 1-2-3 in the top of the second while the Pirates pushed in four runs in the bottom of the inning. Oscar Cortez walked and kept going, catching the Richland defense off-guard and making it to second base. A wild pitch moved him to third before an RBI-ground out to second off the bat of Tanner Smith tied the score. A strike out created two outs and brought Zane Whitworth to the plate. He walked and Grant English's ball to short was misplayed, allowing both runners to move up. Whitworth stole third and Grant made his way to third on an error before Cole Register tripled in both runners with a ball to the gap in right-center field. Cole would later score on a wild pitch and push the Macks Creek lead to 4-1.
The Pirates added another run in the fifth. Zane walked and moved to second on Grant's single to center. A double-steal put runners at second and third ahead of a Cole Register walk to load the bases. A ground ball to short created a double play, erasing Register at second and hitter Colton Walter at first, but allowed Whitworth to score.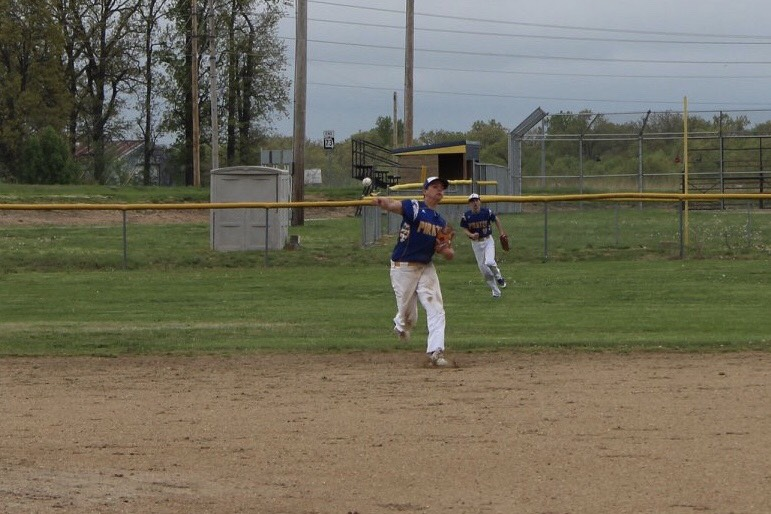 In the top of the fifth the Bears plated their second run. Austin Butteris reached on an error and moved to second on a wild pitch. Bridger Lobland drove him in with a double to the gap in right-center field. Lobland would later move to third when Joshua Vire's soft-line drive hit off the second baseman. A strike out ended the inning with the score now at 5-2.
Macks Creek responded with two more in the bottom of the inning. Trever Smith walked and advanced to second on a wild pitch. Following a fly out to center, Tanner Smith then collected an RBI-single up the middle. He moved to second on a passed ball before Zane Whitworth drove him in with another single up the middle. Macks Creek had pushed the advantage to 7-2.
In the bottom of the sixth the Pirates scored two more runs. Hunter Lane singled to lead off the inning and stole second and third. A strike out created out number one before Oscar Cortez was hit-by-a-pitch to put runners at the corners. An errant pick-off attempt at first allowed Hunter to score and Cortez to move to second. Carsen Strutz then reached on an error by the pitcher when his slow roller up the line drew a throw that sailed over the first baseman's head. Oscar scored on the play for the final Macks Creek tally of the night.
Richland collected three more runs in the top of the seventh to create the final margin. Austin Butteris reached on an error ahead of a strike out. Bryce Johnson hit a ball to short that was fielded and Butteris was out at second. A passed ball moved Johnson to second before Joshua Vire's fly ball to center was dropped, allowing Bryce to score from second and Vire to reached second base. Hunter Reed then struck out, but a passed ball allowed him to reach and extend the game. Noah Johnson drove in Vire with a single to right and Hunter Reed moved all the way around the bases when the ball was misplayed by the fielder. A ground out to the pitcher ended the game.
"You could tell we had just returned from a week off, but we did what we needed to do to come out on top in this one," commented Macks Creek Coach Jason Trusty.
"Defensively we are still making mistakes, and that's something we're still working to get a hold on heading into the finals weeks of the regular season."
Oscar Cortez (2-0) started and picked up the win with four innings of work. He was touched for one unearned run on two hits while striking out three and walking two. Hunter Lane worked the next two-and-two-thirds innings, allowing four unearned runs on one hit to go along with three strike outs and a walk. Tanner Smith allowed one hit and struck out one batter in one-third inning of work.
Joshua Vire suffered the loss for the Bears. He worked the first four-and-two-thirds innings, allowing seven runs, three earned, on five hits while striking out five and walking seven. Bryce Johnson relieved and allowed two unearned runs in his one-and-a-third innings pitched. He also struck out three, walked one, and hit one batter.
For the Pirates offensively, six hits were collected from six different batters. Cole Register tripled in two runs, walked twice, and scored once. Hunter Lane singled and scored, Oscar Cortez singled, walked, was hit-by-a-pitch, and scored two runs, Tanner Smith had an RBI-single and ground out, as well as a run scored, Zane Whitworth singled in a run, walked twice, and scored twice, and Grant English reached twice on errors, singled, and scored. Trever Smith walked and scored, Carsen Strutz reached on an error, and Colton Walter walked twice and had an RBI-ground out.
Richland was able to bang out four hits in the contest. Bridger Lobland doubled in a run and reached on an error and a fielder's choice, Bryce Johnson singled, reached twice on fielder's choices, and scored once, Joshua Vire had an RBI-single, reached on an error twice, and scored a run, and Noah Johnson had an RBI-double. Austin Butteris reached three times on errors, once on a walk, and scored two runs, Hunter Reed reached on a passed ball-strike out and scored and Kenneth Roach and Zachary Evans both walked.
Macks Creek moved to 8-6 while Richland falls to 3-8. The Pirates are scheduled to play in Fair Play Wednesday (today), weather-permitting, while Richland is scheduled to play Dixon. The Pirates will also play host to the Halfway Cardinals on Friday.
The Pirates JV dropped the night cap by the score of 12-0.
Zack Wallce worked the first inning, walking five and allowing three runs. Trever Smith worked the second and walked three while surrendering three runs, two earned. Grant English worked the third, walking four, and allowing three runs. Carsen Strutz worked the fourth and allowed three unearned runs and hit one batter.
Zack Wallace and Chris Willey collected the only two hits, both singles. Isaiah Schmidt and Grant English were both hit-by-a-pitch.
VARSITY BOX SCORE
| | | | | | | | | | | |
| --- | --- | --- | --- | --- | --- | --- | --- | --- | --- | --- |
| | 1 | 2 | 3 | 4 | 5 | 6 | 7 | R | H | E |
| RHS | 1 | 0 | 0 | 0 | 1 | 0 | 3 | 5 | 4 | 5 |
| MC | 0 | 4 | 0 | 1 | 2 | 2 | X | 9 | 6 | 7 |