Baseball Pirates Celebrate Senior Night with PCL Win
Jason Trusty
Friday, April 26, 2019
MACKS CREEK - Macks Creek celebrated Senior night on Friday by welcoming in the #10 team in Class 1, the Halfway Cardinals. When the dust had settled, it was the Pirates who emerged with a 5-1 win over their guests.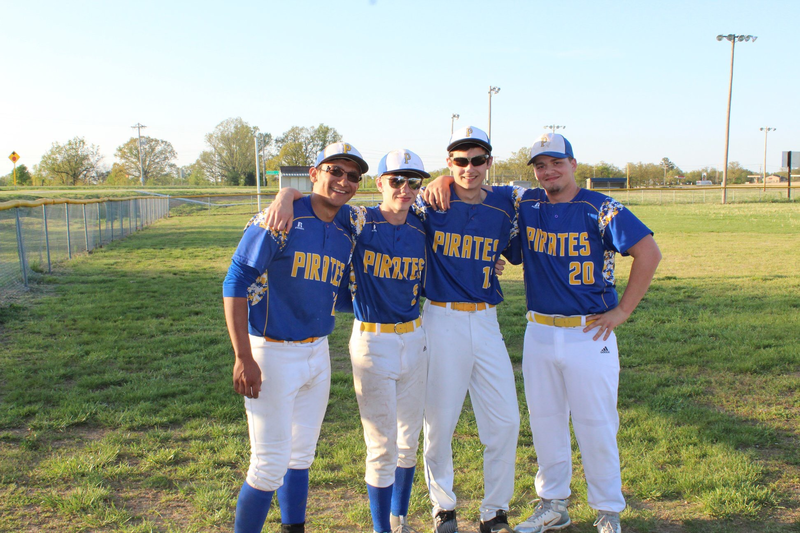 Hayden McCarthy was hit by the first pitch of the game by Pirates starter Hunter Lane and moved to second on a wild pitch. He would remain stranded as Lane struck out the side in order after that.
Macks Creek plated their first run in the bottom of the first. Cole Register walked and stole second before a passed ball moved him to third. Colton Walter also walked and then stole second to put runners at second and third with nobody out. Hunter Lane's ground ball to the pitcher drew the throw to first and allowed Register to score for an early 1-0 lead. Walter moved to third on the play. Oscar Cortez then drew a walk before Tanner Smith was beaned to load the bases. A strike out ended the threat.
Ryan Gallivan drew a lead-off walk in the top of the second but Hunter again struck out the next three hitters he faced to avert any damage. The Pirates went quietly in their half of the inning and Halfway did as well in the third. The bottom of the inning saw Macks Creek plate another run. Colton Walter led off with a double to the gap in left-center and moved to third on a wild pitch. He would come in to score on Hunter Lane's single through the left side and push the lead to 2-0.
The Cardinals and Pirates both went 1-2-3 in the fourth before Macks Creek plated two more in the fifth. With one out Hunter Lane again reached, this time on an error by the short stop. He broke for second a little too early and was picked off back at first base for out number two. Trever Smith was hit-by-a-pitch and Oscar Cortez walked to put two runners on. Tanner Smith then lifted a double to right field, scoring his brother Trever from second and Cortez all the way from first to move Macks Creek's lead to 4-0.
Halfway plated their lone run in the sixth. With one out Trenton McCarthy blooped a single into right and then came around to score on Jarrett Rovenstine's ball deep in the gap in left-center. Rovenstine moved to third on a wild pitch during Hayden McCarthy's at bat. McCarthy hit a soft-liner to third, which was knocked down by the third baseman and trapped Rovenstine between third and home. The throw home caught him trying to score and Hayden reached on the fielder's choice. A strike out ended the inning.
The Pirates plated one more run in the sixth. Carsen Strutz reached on an error to short and Grant English singled up the middle, putting runners at first and second. After a strike out both runners would try to move up on a wild pitch during Colton Walter's at bat. Strutz would be thrown out at third for the second out. Walter walked and then he and English moved up one base on a wild pitch. Hunter Lane drew a walk to load the bases before Trever Smith collected an RBI when he also walked, bringing in English from third. A strike out ended the inning. Halfway would go 1-2-3 in the top of the seventh to end the game.
"We made some nice adjustments at the plate with Phillips and then continued to do so when they brought in McCarthy," commented Macks Creek Head Coach Jason Trusty, "both threw with good velocity but we were able to show some patience and work counts."
Macks Creek hurler Hunter Lane (2-3) collected a career-high 17 strike outs in his six-and-two-thirds innings of work. He was touched for one run on two hits while walking one and hitting one batter. Oscar Cortez recorded the final out on a strike out against the only batter he faced.
"Hunter was phenomenal on the bump tonight," said Trusty, "he hit spots and really did a nice job to allow our offense to work and support him."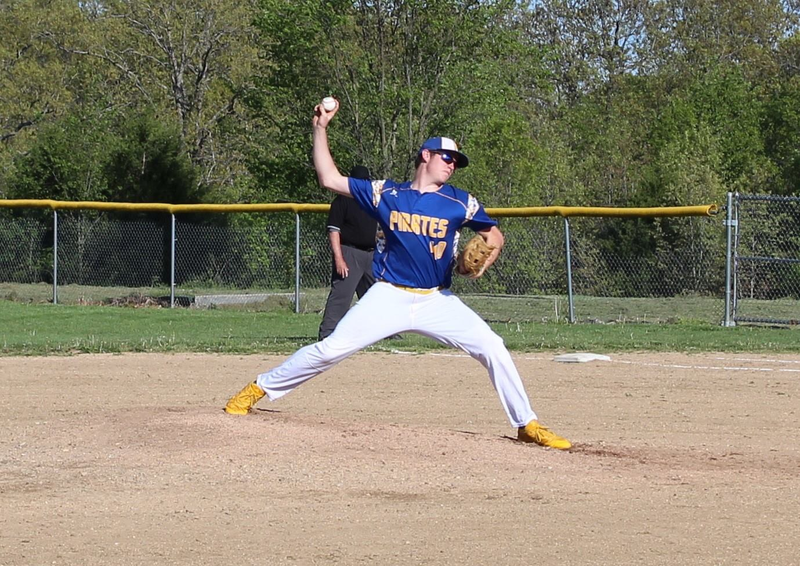 Blake Phillips started and took the loss for Halfway. He worked the first four innings, surrendering two runs on three hits while striking out seven, walking three, and hitting one batter. Hayden McCarthy threw the final three frames, allowing three runs on two hits to go along with four strike outs, four walks, and one hit batter.
Offensively the Pirates only had five hits on the night, but were able to draw seven walks and two runners on hit batsmen. Colton Walter and Tanner Smith each doubled while Hunter Lane, Trever Smith, and Grant English each singled. Walter scored once and walked twice, Lane reached on an error, walked, and had two RBI's, Trever Smith scored a run, had an RBI, and a walk, Tanner Smith had two RBI's and was beaned, and English reached on an error and scored a run. Cole Register walked and scored, Oscar Cortez walked twice and scored once, and Carsen Strutz reached on an error in the contest.
Jarrett Rovenstine and Trenton McCarthy collected the only two hits for the Cardinals. Rovenstine had an RBI-double while Trenton singled and was hit-by-a-pitch. Hayden McCarthy reached on a fielder's choice in the contest and Ryan Gallivan walked.
Macks Creek improves to 9-6 overall and 4-2 in the Polk County League while Halfway falls to 7-4, 3-1 in PCL play. Macks Creek steps out of conference play on Monday as they play host to Climax Springs before facing current Class 2 #9 in Iberia at home on Tuesday. All of this is weather permitting.
VARSITY BOX SCORE
| | | | | | | | | | | |
| --- | --- | --- | --- | --- | --- | --- | --- | --- | --- | --- |
| | 1 | 2 | 3 | 4 | 5 | 6 | 7 | R | H | E |
| HHS | 0 | 0 | 0 | 0 | 0 | 1 | 0 | 1 | 2 | 4 |
| MC | 1 | 0 | 1 | 0 | 2 | 1 | X | 5 | 5 | 0 |
--
Jason TrustyMacks Creek R-V
7 - 12 Social Studies
Head Baseball/Softball Coach
FCA Sponsor
Athletic/Activities Director
(573) 363 - 5911 ext. 111