Pirates Defeat Rival Cougars
Jason Trusty
Monday, April 29, 2019
MACKS CREEK - Macks Creek and Climax Springs met on the ball diamond on Monday in Macks Creek. At the end of the night it was the Pirates who came away with 16-1, four-inning win over their visitors.
Climax took the lead in the top of the first. With one out Blake Baum reached on an error at third. He stole second during the next hitter's at bat. The ball sailed over the head of the second baseman and into center field and allowed Baum to score. Back-to-back strike outs ended the inning with the Cougars ahead 1-0. Macks Creek's Hunter Lane reached in the bottom of the first but would remain stranded. Climax went 1-2-3 in the top of the second before the Pirates erupted for 10 runs in their half of the inning.
Trailing 1-0 in the bottom of the second, Macks Creek managed to push 10 runs across and never looked back. After a ground out to short off the bat of Tanner Smith led off the inning, the Pirates sent 13 hitters to the plate before the second out was recorded. Grant English had a bloop-single to left and stole second. Tyrone Rios struck out but managed to reach when the ball got away from the catcher. English moved to third on the play. After a walk to Keith Edelman loaded the bases, Grant scored from third on a wild pitch. Preston Borgmeyer then walked to load the bases again before Cole Register drew a walk to bring in Rios from third to give Macks Creek a 2-1 lead. Colton Walter then lifted a single to left-center to plate Edelman and Hunter Lane drove in Preston and Cole with a single up the middle. Trever Smith hit a slow roller to third that was bobbled and allowed all runners to reach before Tanner Smith, batting for the second time in the inning, singled up the middle to bring in Walter and Lane. Grant English's ground ball to third was misplayed, allowing Trever to score before Tyrone Rios tripled to deep center field to push in both Tanner and Grant. Keith Edelman was then beaned and Preston Borgmeyer walked to load the bases before a strike out and line out to center ended the inning. Macks Creek now led 10-1.
The Pirates plated one more run in the third when Hunter Lane walked, stole second, and scored on Trever Smith's RBI-single to right. In the bottom of the fourth Macks Creek plated five runs to end the game via the run-rule. Preston Borgmeyer walked, Cole Register singled to left, and Colton Walter walked to load the bases before Lane drove in Borgmeyer and Register with another single to center and move Isaiah Schmidt to third. He had entered as a pinch runner. Trever Smith singled to left to load the bases and Tanner Smith walked, bringing in Schmidt before Grant English singled to right field to score Lane and Trever, ending the game with the Pirates ahead 16-1.
"We made some adjustments after the first inning and we were able to put some runs on the board," commented Jason Trusty of Macks Creek.
"We had a couple of younger guys step in for us tonight with our Seniors gone and they did very well."
Tanner Smith (2-3) collected the win with his four innings of work. He struck out a career-high 10 with only two walks. He also gave up an unearned run.
Sam Cline took the loss for the Cougars. He was touched for 10 runs, seven earned, on five hits while walking four in his one-and-a-third innings of work. Jake Reed relieved and worked into the fourth with one-and-two-thirds innings of work. He allowed six runs on four hits while striking out two, walking five, and hitting one batter. Jacob Bryant surrendered a single to the only batter that he faced while in relief.
Each spot in the Pirates lineup produced a runner and a run in the contest. Hunter Lane went two-for-two with a pair of singles, four RBI's, two walks, and three runs scored. Trever Smith went two-for-four with two singles, two runs scored, and an RBI, and Grant English collected two singles in four official at-bats. He also reached on an error and a fielder's choice, as well as scored two runs and had two RBI's. Cole Register walked, singled, scored, and had an RBI, Colton Walter singled in a run, walked, and scored twice, and Tanner Smith walked, had three RBI's, and singled. Tyrone Rios tripled in two runs, scored once, and reached on a strike out-passed ball, Keith Edelman walked, was beaned, and scored a run, and Preston Borgmeyer walked in all three trips he had to the plate and scored two runs. Isaiah Schmidt scored one run as a pinch runner.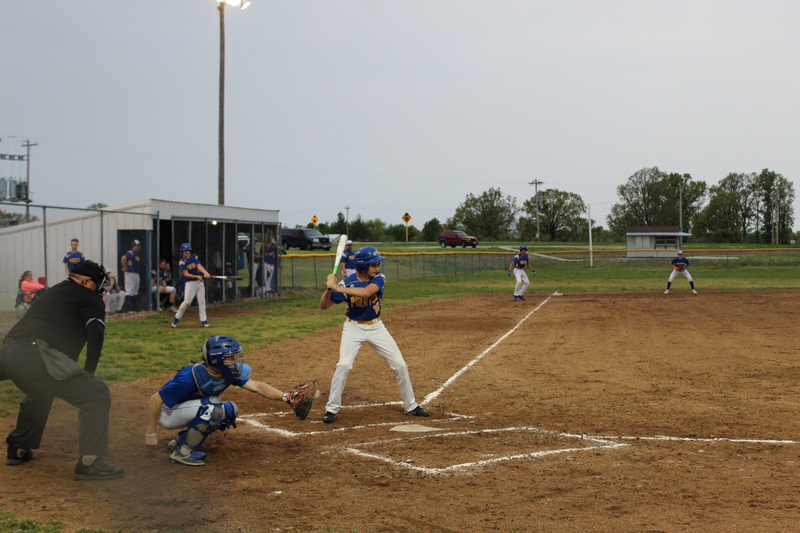 Blake Baum reached on an error and scored the only run for Climax Springs. Dylan Dake was the only other batter to reach base as he walked twice.
Macks Creek improves to 10-6 with the win. The Pirate are slated to play today (Tuesday) against the #9 team in Class 2, the Iberia Rangers. Game time is slated for 5:00. (weather permitting)
VARSITY BOX SCORE
| | | | | | | | |
| --- | --- | --- | --- | --- | --- | --- | --- |
| | 1 | 2 | 3 | 4 | R | H | E |
| CS | 1 | 0 | 0 | 0 | 1 | 0 | 2 |
| MC | 0 | 10 | 1 | 5 | 16 | 10 | 2 |