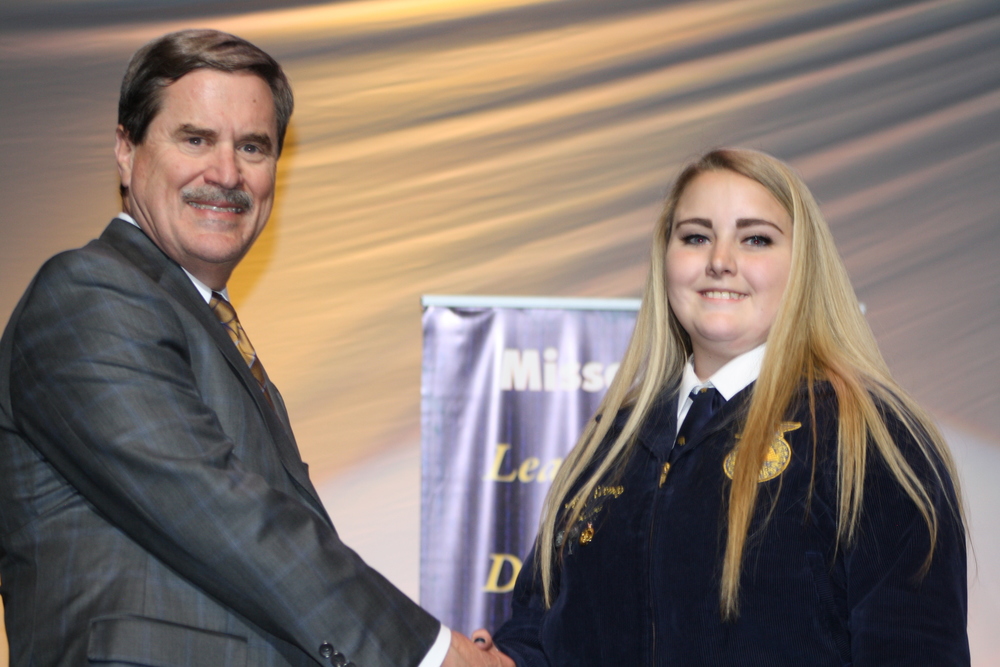 Local FFA Member Receives State's Highest FFA Honor
Brad Kolwyck
Thursday, May 02, 2019
On April 26, 2019, Kelsi Kinney of Macks Creek received a State FFA Degree, the highest degree members can receive at state level, during the 91st Missouri FFA Annual Convention in Columbia, Missouri.
Kelsi is only one of 760 degree recipients receiving the honor. Recipients earn the degree by their supervised agricultural experience program in agribusiness or production agriculture and leadership ability as demonstrated through involvement in FFA, school and community activities. The State FFA Degree award charms are sponsored by MFA Inc., Columbia.
"The State FFA Degree is the highest recognition a state can award, representing 3 percent of the total Missouri FFA membership per year," said State FFA Advisor Leon Busdieker.
The theme for this year's convention was "Cultivate Tomorrow, Today" with more than 9,000 youth and guests in attendance. The Missouri FFA has 25,375 members representing 347 chapters throughout the state. The national organization has more than 669,000 members representing 8,630 chapters in all 50 states, Puerto Rico and the U.S. Virgin Islands.
The FFA makes a positive difference in the lives of students by developing their potential for premier leadership, personal growth and career success through agricultural education.