Lady Pirates Softball Opens the Fall Season with Win
Jason Trusty
Tuesday, September 03, 2019
MACKS CREEK - The Lady Pirates opened their Fall 2019 season at home, welcoming in the Fair Play Lady Hornets on Tuesday night. After a long evening in the summer heat it was Macks Creek who came away with a 14-11 win.
Fair Play opened the night with three runs in the first. Lexie Simpson was hit-by-a-pitch before Breezy Wilson laid down a sacrifice bunt. The ball was misplayed at third, moving Simpson to second before a throw from home to the third baseman went off the fielder's glove, allowing Lexie to score. The ball traveled down the line and Wilson scampered all the way around the bases, putting Fair Play ahead 2-0. Chyler Welch then doubled to short-left field. She moved to third on an error of the bat of Emily McDougal, and then stole home. McDougal would be erased on the play trying to move from second to third.
After Macks Creek went quietly in the bottom of the first, Alyssa Seaholm collected a single in the frame, Fair Play plated another run in the second. Kenzie Clark singled to left but was erased at second when Jaden Dollar's one-out grounder was fielded at short. The Lady Pirates missed a double play by a small distance. Dollar moved to second on a hit-by-pitch of Lexie Simpson, to third on a walk of Breezy Wilson that loaded the bases, and eventually scored on a wild pitch. The Lady Hornets held a 4-0 lead after an inning-and-a-half.
The bottom of the second saw the Lady Pirates push five runs across to take the lead, 5-4. With one out Kenzie Hicks singled into the hole at short and stole second. Following a walk to Molly Phillips, Courtney Knight singled to right to load the bases. A strike out brought Jesse Willis to the plate and she was able to lift a soft-liner to left to plate both Hicks and Phillips, with Knight moving to third on the play. Alyssa Seaholm then hit a bloop single to center. Courtney scored on the play, and a misplay by the short stop allowed Willis to score. On the same error, Seaholm circled the bases to push Macks Creek ahead.
The Lady Hornets tied the game in the bottom of the third when Chyler Welch doubled off the wall in left, moved to third on a wild pitch, and eventually scored on a Kenzie Clark ground out. Fair Play would plate four more runs in the fourth to take a 9-5 lead. Jaden Dollar walked, Lexie Simpson singled, and Breezy Wilson reached on a fielder's choice to load the bases. Dollar would score on a throwing error by the catcher. After a Lady Pirate pitching change, Brayden Thomas hit a hard line drive to third that was snagged. A throw to get the runner at first sailed out of the field of play, pushing in Simpson and moving Wilson to third. Chyler Welch was intentionally walked and stole second. Abby Grove drove in Wilson with a ground out to first with Welch moving to third on the play. Emily McDougal laced an RBI-triple to the gap in left to push in Chyler to give Fair Play the lead.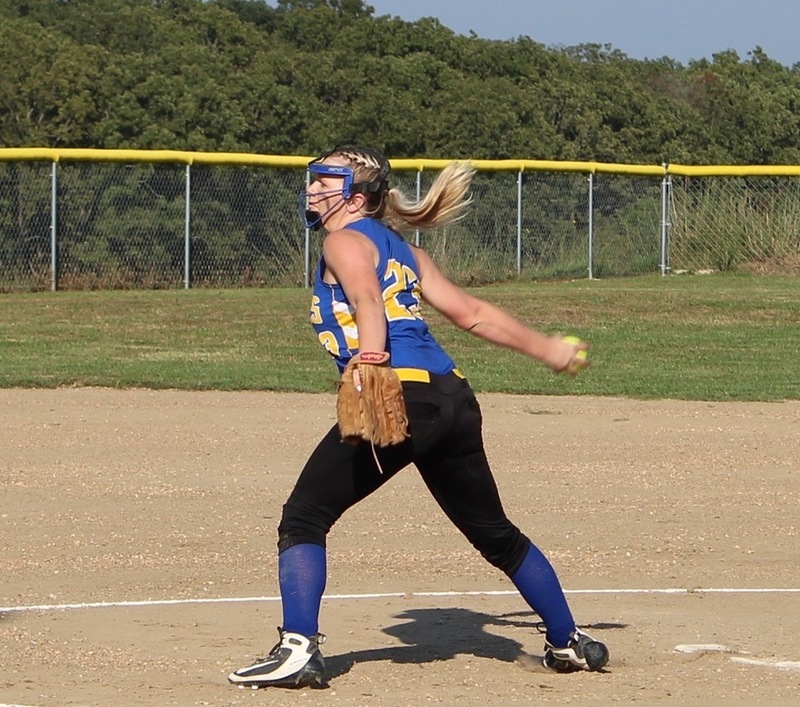 Macks Creek responded with three runs of their own in the bottom of the fourth. Molly Phillips laid down a bunt single and Courtney Knight singled to center to move her to third. Knight moved to second on the throw. Following a strike out Jesse Willis collected an RBI with a ground out to third. Alyssa Seaholm singled to the hole at short to push in Courtney. Bobbie Hilton followed with a double off the wall in deep-center, pushing in Seaholm and cutting the lead to 9-8.
Fair Play went quietly in the top of the fifth before the Lady Pirates went on top for good in the bottom of the frame. After back-to-back strike outs to open the half-inning, Macks Creek sent seven hitters to the plate and scored five runs. Molly Phillips and Courtney Knight each walked. Both runners would move up on a wild pitch. Syrena Rector reached first when the third strike was dropped, with Molly scoring and Knight moving to third. Jesse Willis then hit a slow roller to short, where Knight scored and Syrena evading the tag of the fielder. Willis rounded first and headed to second, drawing a throw, when Rector took off for home and scored. Willis would come in to score on a single to left again off the bat of Alyssa Seaholm. Seaholm stole second before coming in to score on an error by the short stop on a ball off the bat of Bobbie Hilton. A fly out to center ended the inning, this time with the Lady Pirates ahead 13-9.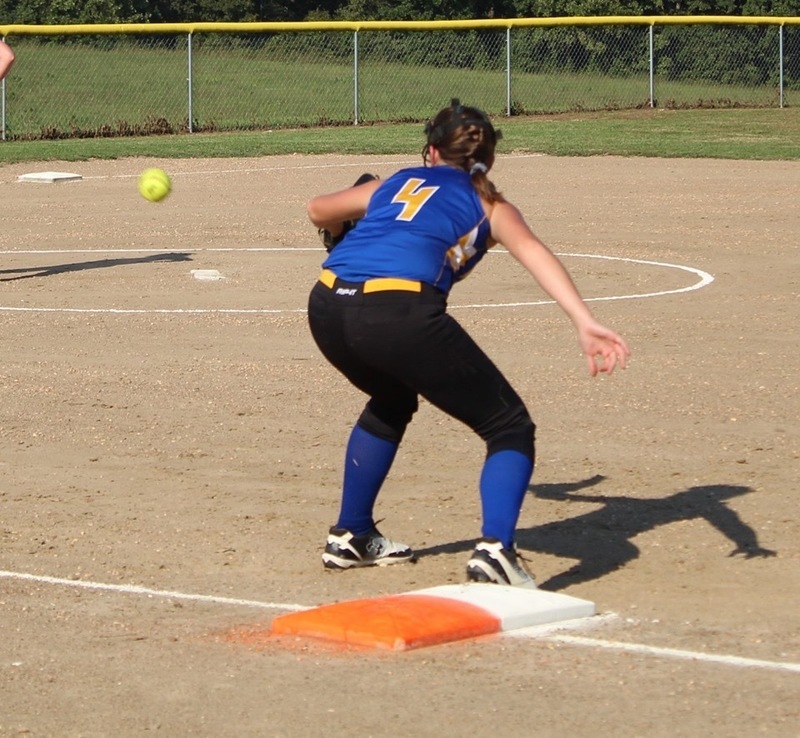 The Lady Hornets scored once in the sixth and one more time in the seventh while Macks Creek plated a single tally in the sixth to help create the final margin.
"We were a bit rusty on the defensive side of the ball but I feel that we really did a good job of working out some of the jitters as the game went along," said Macks Creek Head Coach Jason Trusty.
"Offensively I thought we did a really good job of putting the ball in play and making the defense move to make plays as well."
Offensively the Lady Pirates were paced by Alyssa Seaholm's four-for-four night at the plate. She singled four times, drove in three, and scored three runs. Courtney Knight went two-for-three with two singles, a walk, and three runs scored, and Kenzie Hicks went two-for-four with two singles and two runs scored. Jesse Willis singled in two runs, drove in another on a ground out, and reached on an error to go along with two runs scored. Bobbie Hilton had an RBI-double and reached on an error, Molly Phillips walked twice, had a bunt single, and scored three runs. Syrena Rector reached base and scored a run as well.
Chyler Welch collected two hits in three trips to the plate to pace the Lady Hornet offense. She also scored three runs and walked twice. Kenzie Clark singled twice, scored once, and had an RBI. Lexi Simpson was hit three times, singled once, and scored two times, Emily McDougal reached on an error, walked, and tripled in a run, while Jaden Dollar collected a single, walked twice, reached base on a fielder's choice, and scored two runs. Abby Grove drove in a run with an RBI-ground out, Meghan Hoxsie reached on a hit-by-pitch, and Breezy Wilson reached on a sacrifice bunt, walked three times, made it to base on a fielder's choice, and scored three runs.
Senior Bethany Schmidt (1-0) picked up the win in relief of starter Jesse Willis. She worked the final four frames, allowing three runs, two earned, on three hits while striking out one, walking five, and hitting two batters. Senior Jesse Willis worked the first three-plus innings, allowing eight runs, two earned, on four hits while striking out four, walking three, and hitting two batters.
Chler Welch started and worked the complete game for the Lady Hornets. She was touched for 14 runs, eight earned, on 11 hits while striking out 11 and walking three.
The Lady Pirates move to 1-0 on the young season, as well as to 1-0 in the Polk County League. Fair Play falls to 0-1 and 0-1 in Conference play. The Lady Pirates are off until next Monday when they travel to Laquey for a 5:00 tilt with the Lady Hornets.
VARSITY BOX SCORE
| | | | | | | | | | | |
| --- | --- | --- | --- | --- | --- | --- | --- | --- | --- | --- |
| | 1 | 2 | 3 | 4 | 5 | 6 | 7 | R | H | E |
| FP | 3 | 1 | 1 | 3 | 0 | 1 | 1 | 11 | 7 | 6 |
| MC | 0 | 5 | 0 | 3 | 5 | 1 | X | 14 | 11 | 5 |
Photos Courtesy of Game Day Photography