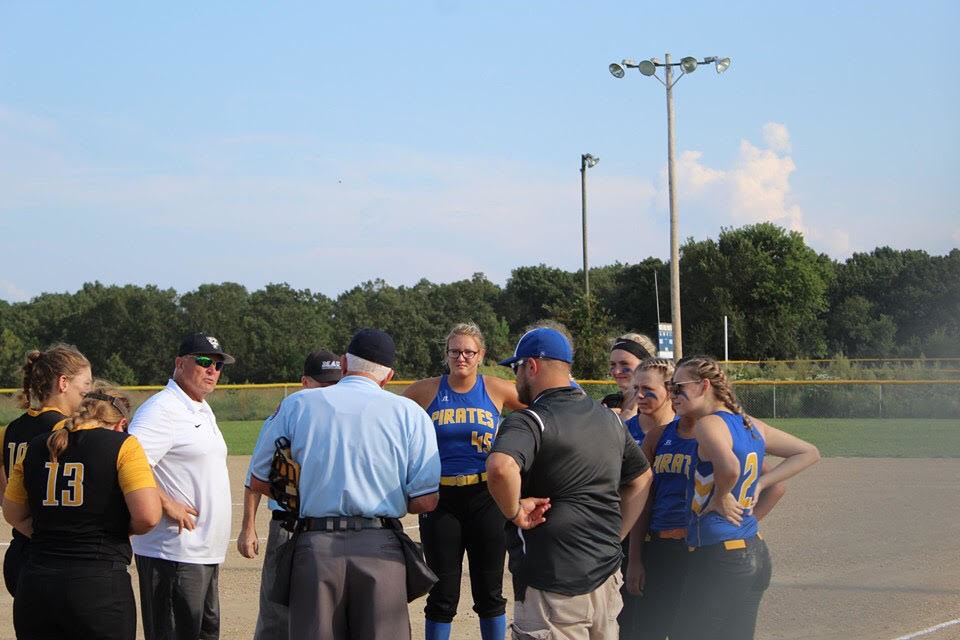 Macks Creek Wins in Walk-Off
Jason Trusty
Tuesday, September 10, 2019
MACKS CREEK - Less than 24 hours after suffering a loss on a walk off to Laquey, the Lady Pirates were able to flip the script and walked off against the Lady Tigers of Versailles, 7-6. With two outs Jesse Willis beat out an infield single to third. Alyssa Seaholm follwed with a single to center. Willis rounded second and head to third, drawing a throw. She slid in safely while Seaholm attempted to make it to second. The throw to try and get her sailed passed the second baseman, allowing Jesse to score with the game winner.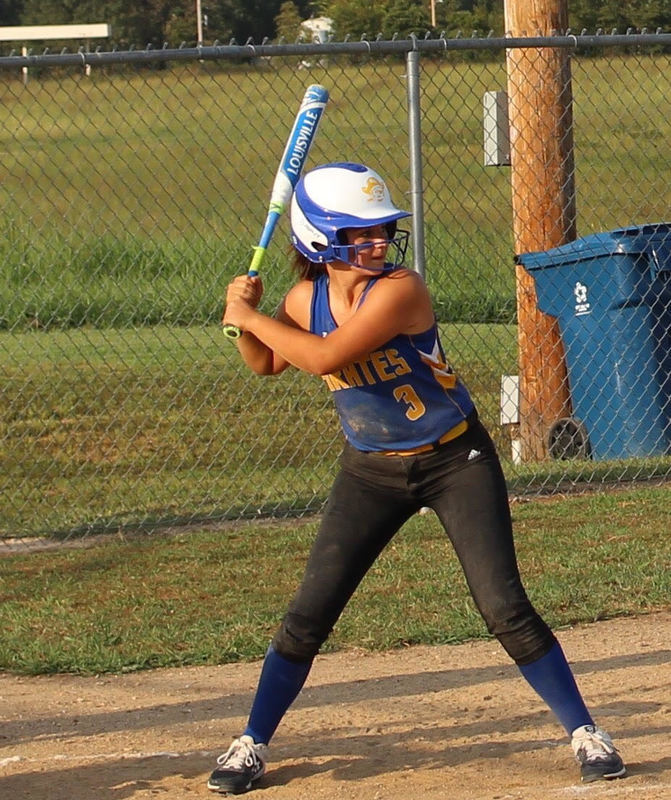 The comeback started in the bottom of the sixth inning. Trailing 6-3, Macks Creek plated three runs to set up their final run in the seventh. Alyssa Seaholm reached on an error by the short stop and then scored all the way from first on a Bobbie Hilton double to left. A single to right off the bat of Caytlin Eidson moved her to third. After a stolen base by Caytlin, Shaylee Skinner grounded out to short, but plated Hilton and moved Eidson to third. During the next at bat, Kenzie Hicks hit a ball to second that skipped through the legs of the fielder and allowed Caytlin to score the tying run. A strike out ended the half-inning, but the score was tied at six.
Versailles had jumped out to a 6-1 lead after four. In the top of the first Maris Ollison walked but was erased at second on a Kierra O'Rourke fielder's choice to short. She would steal second, move to third on a passed ball, and then score on a double to the left field corner off the bat of Joscelynn Marriott. Lauren Garrison came in as a courtesy runner and moved to third when Madison Lucas-Avey's ball to right was dropped. Lucas-Avey would move to second on the play. Garrison scored on a wild pitch and Ellie Dunnaway singled hard to third to plate Madison. Dunnaway moved to second on a Taylor Bice ground ball to third that was mishandled, and Morgan Allen walked to load the bases. A ground ball to short off the bat of Leya Hauerwas caught Dunnaway at home and Haurwas was erased at second on a ball off the bat of Analyssa Pence to end the frame.
Macks Creek pushed in their first run of the night in the bottom of the inning. Jesse Willis doubled to left and later came in to score on Bobbie Hilton's ground ball to short that was misplayed. She would be erased at second on a fielder's choice by Caytlin Eidson and Shaylee Skinner would single to put runners at first and second. A strike out would end the inning.
The Lady Tigers plated three more runs in the fourth. Maris Ollison tripled to the left field corner to lead off the inning. Kierra O'Rourke walked just before Joscelynn Marriott singled to left to plate Ollison and move Kierra to second. She would be erased on a fielder's choice off the bat of Madison Lucas-Avey at third. Ellie Dunnaway would walk to load the bases and Taylor Bice drew another walk to plate courtesy runner Lauren Garrison. Morgan Allen hit a ground ball to third in the next at bat and the throw went home, cutting down Madison. The throw from the catcher in an attempt to get the double play at first sailed passed the first baseman and into right. Dunnaway scored from second, Bice moved to third, and Allen moved to second. A walk by Hauerwas loaded the bases but a strike out ended the inning with Versailles now ahead 6-1.
The Lady Pirates answered with two runs in the bottom of the fourth to cut the lead in half. Jesse Willis singled with two outs and stole second. Alyssa Seaholm reached on an error by the third baseman with Willis moved to third. Bobbie Hilton followed with a two-RBI-double to plate both Willis and Seaholm. A fly out to right ended the frame. Versailles threatened in the fifth when they loaded the bases and again in the sixth when they put runners at second and third with two outs, but were unable to push any runs across.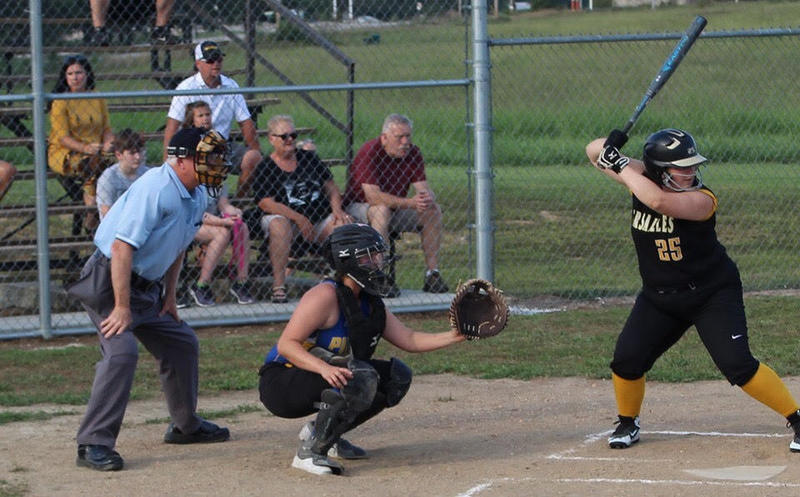 "We did a really good job of rebounding from last's night heart-breaker to come out and pick up a win today," commented Macks Creek Coach Jason Trusty.
"Tonight was the first night that we had our full Varsity complement and we played great defensively, offensively, and in the circle to be able to do what we did."
Bethany Schmidt (2-0) picked up the win in relief of starter Jesse Willis. Schmidt worked the final three frames, allowing no runs on three hits while walking one and hitting one batter. Jesse started and worked the first four-plus innings, allowing six runs, four earned, on six hits while striking out one and walking eight.
Joscelynn Marriott threw six-and-two-thirds innings for the Lady Tigers in suffering the loss. She allowed seven runs, one earned, on 11 hits while striking out nine, walking two, and hitting one batter.
Bobbie Hilton and Jesse Willis each collected three hits to help pace the 11-hit attack of Macks Creek. Hilton doubled twice, singled once, reached on an error, scored one time, and had three RBI's while Willis singled twice, doubled once, and scored three runs. Caytlin Eidson singled twice, reached on a fielder's choice, and scored a run and Shaylee Skinner singled twice, was hit-by-a-pitch, and had an RBI-ground out. Alyssa Seaholm singled, reached twice on errors, and scored two runs. Kenzie Hicks reached on an error and Myra Cortez and Molly Phillips walked in the contest.
Joscelynn Marriott paced the Versailles offense with a four-for-five night. She doubled twice, singled twice, and had two RBI's. Maris Ollison tripled, singled, walked twice, and had a run scored in the contest as well. Kierra O'Rourke singled, walked, reached on an error and fielder's choice, and scored a run. Ellie Dunnaway singled in a run, walked, and scored, and Leya Hauerwas singled, walked, and reached on a fielder's choice. Madison Lucas-Avey reached on an error, a walk, and a fielder's choice while crossing the plate once, Taylor Bice walked twice and reached on an error, Morgan Allen made it to base on a walk and twice on a fielder's choice, and Analyssa Pence was hit-by-a-pitch. Lauren Garrison scored two runs as a courtesy runner.
Macks Creek improves to 2-1 while Versailles falls to 1-5. The Lady Pirates will take on the Central Lady Bulldogs on Thursday at home before traveling to Hermitage on Friday in PCL action. Both games start at 5:00.
The Lady Pirate JV suffered an 8-1 setback in the night cap.
Bailey Taylor started in the circle and took the loss. She allowed eight runs, five earned, on 10 hits while walking three batters.
Courtney Knight collected a bunt single and Emma Waters singled for the only two hits. Bailey Taylor, Marissa Harkey, and Vanessa Wallace all walked while Syrena Rector and Ciera Compton reached on errors. Amber Klinksick was hit-by-a-pitch and scored the only run.
The Lady Pirates JV falls to 0-1-1 with the loss.
VARSITY BOX SCORE
| | | | | | | | | | | |
| --- | --- | --- | --- | --- | --- | --- | --- | --- | --- | --- |
| | 1 | 2 | 3 | 4 | 5 | 6 | 7 | R | H | E |
| VLT | 3 | 0 | 0 | 3 | 0 | 0 | 0 | 6 | 9 | 4 |
| MC | 1 | 0 | 0 | 2 | 0 | 3 | 1 | 7 | 11 | 4 |
Photos courtesy of Game Day Photography.