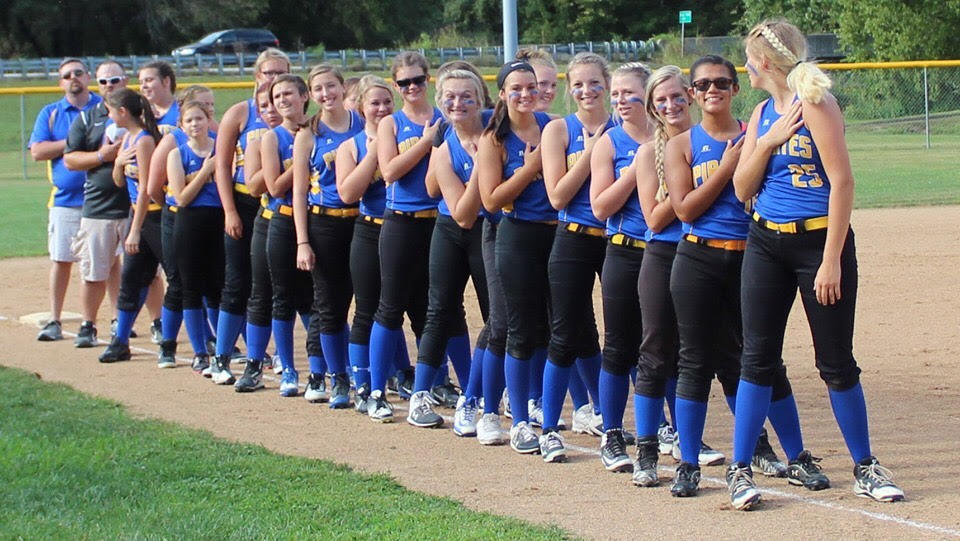 Lady Pirates Take Down Hermitage
Jason Trusty
Sunday, September 15, 2019
HERMITAGE - The Macks Creek Lady Pirates concluded a long week of softball with a 15-0, six-inning win on Friday night over PCL foe Hermitage.
Macks Creek plated three runs in the first and never looked back. Jesse Willis singled, stole second and third, and came around to third on Alyssa Seaholm's strike out. The ball was in the dirt and the first baseman pulled her foot on the throw, allowing Willis to score. After a wild pitch Bobbie Hilton was hit-by-a-pitch. A double-steal followed and Caytlin Eidson's ground ball to third was thrown passed first base, allowing Seaholm to score and Caytlin to reach. Bobbie would be tagged out during the next at bat trying to take home on a wild pitch. Eidson stole second and then scored on wild pitches for a 3-0 lead. Following a strike out Kenzie Hicks and Myra Cortez were beaned. Hicks and Cortez would reach reach the next base on a wild pitch before a fly out to center ended the inning.
The score would remain the same until the fourth. Myra Cortez led off the inning with a double and moved to third on Courtney Knight's bunt single. Cortez would score on the same play when the throw to get Knight was late and went off the glove of the first baseman. Knight would steal second and move to third on a wild pitch ahead of a Molly Phillips walk. Following a steal of second base, Jesse Willis ripped a two-RBI-double down the left field line. She would move to third on a wild pitch and later score in the same manner. Alyssa Seaholm then doubled and would come around to score on Bobbie Hilton's RBI-single to left. She would steal second and then move to third on a bunt. Courtesy runner Bailey Taylor would remain stranded at third to end the half inning.
In the top of the fifth Myra Cortez was hit-by-a-pitch for the third time and would move from first to third on consecutive ground outs before crossing the plate on Alyssa Seaholm's single to left. The Lady Pirates now held a 9-0 lead.
The top of the sixth saw the Lady Pirates plate six more runs to create the final margin. They utilized four walks, four hit batters, and one hit to do the damage.
"We started strong with those three first inning runs and then had a couple of innings where the Hermitage pitcher kept us out on the front foot," said Macks Creek Coach Jason Trusty.
"I told the girls to make an adjustment and be patient and they did, which allowed us to put some more runs on the board."
Macks Creek was led offensively by Jesse Willis and Alyssa Seaholm. The 1-2 at the top of the lineup combined for four hits, with each collecting a single and a double. Willis also reached on an error, a walk, and a hit-by-pitch to go along with two runs scored and three RBI's. Seaholm reached on a dropped-third strike and a hit-by-pitch while scoring twice and collecting two RBI's. Bobbie Hilton singled in a run, was hit twice, walked, and scored a run, Caytlin Eidson singled, scored twice, and reached on an error, Myra Cortez singled, scored three runs, was beaned three times, and had an RBI, and Courtney Knight collected a bunt single to go along with one run scored. Shaylee Skinner walked and scored, Kenzie Hicks walked, was beaned, and scored, and Molly Phillips walked twice and scored two runs.
Sarah Webb singled twice and reached on a fielder's choice for the Lady Hornets. Chelsi Horn collected a single for the only other hit for Hermitage. Shekainah Andres reached base twice on errors and Lily Hart walked.
Shaylee Skinner (1-1) worked all six innings in collecting her first win of the Fall. She allowed only three hits while striking out three and walking one.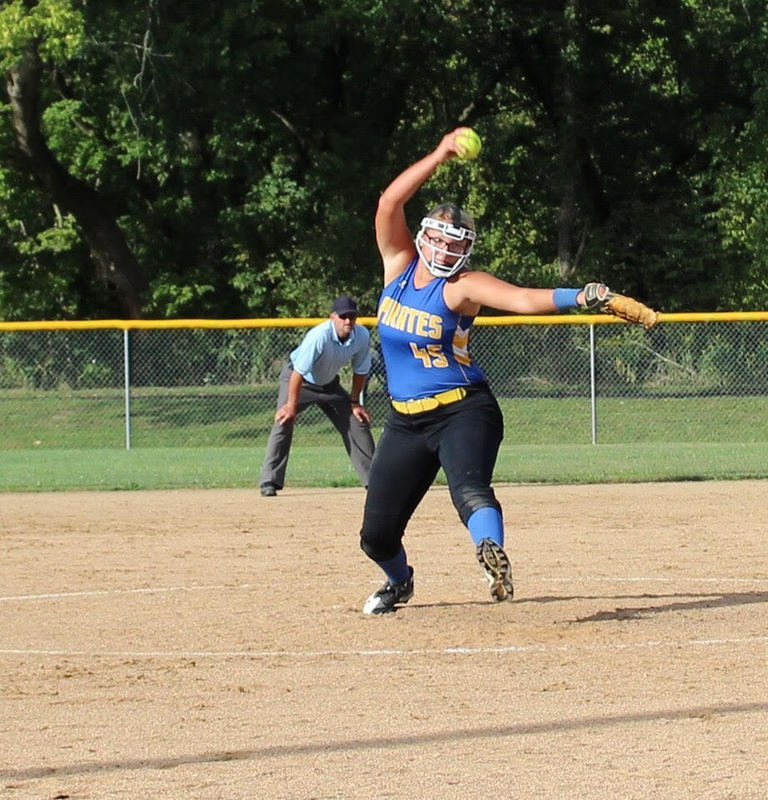 Shekainah Andres suffered the loss in the circle for Hermitage. She worked four-and-two-thirds innings, allowing 14 runs, 10 earned on eight hits while striking out two, walking five, and hitting three batters. Taylor Copeland worked an inning-and-a-third, allowing one run on not hits while striking out one, walking one, and hitting five batters.
Macks Creek improves to 4-1, 2-0 in the PCL while Hermitage falls to 1-7, 1-3 in conference play. Macks Creek is back at home on Monday and Tuesday as they welcome in Crocker on Monday and conference opponent Wheatland on Tuesday. They will then compete in the Weaubleau Softball Tournament on Friday and Saturday next week.
The Lady Pirates JV dropped a 4-3 decision in the JV game.
Bailey Taylor started and took the loss in the circle. She worked two innings, allowing four runs on three hits while striking out two, walking four, and hitting one batter.
Taylor also collected the lone hit for the JV Lady Pirates, an RBI-double. She also was hit-by-a-pitch and scored a run. Vanessa Wallace, Catie Gabriel, Emma Waters, and Daysha Brooks all walked. Callie Leach was hit-by-a-pitch and scored a run while Brooks also scored once. Marissa Harkey was beaned, walked, and had an RBI.
The JV Lady Pirates fall to 1-2-1.
VARSITY BOX SCORE
| | | | | | | | | | |
| --- | --- | --- | --- | --- | --- | --- | --- | --- | --- |
| | 1 | 2 | 3 | 4 | 5 | 6 | R | H | E |
| MC | 3 | 0 | 0 | 5 | 1 | 6 | 15 | 8 | 3 |
| HHS | 0 | 0 | 0 | 0 | 0 | 0 | 0 | 3 | 4 |