Lady Pirates Rebound Against Wheatland
Jason Trusty
Tuesday, September 17, 2019
MACKS CREEK - The Lady Pirates returned to the diamond on Tuesday night, playing host to the Wheatland Lady Mules. When the dust had settled, it was the Lady Pirates coming away with an 11-1 win in six innings.
Wheatland plated their lone tally in the top of the first. Taylor Hunt walked, stole second and third, and came into score on KJ Griffin's sacrifice fly to left. The Lady Mules would hold a 1-0 lead until the bottom of the inning.
Macks Creek responded with four runs of their own in the home half of the first. Jesse Willis led off with a walk and moved to third on Alyssa Seaholm's single to left. Seaholm would move to second when the throw went to third. Willis would later score on a ball thrown passed the pitcher, with Alyssa moving to third. Seaholm would come in on Caytlin Eidson's sacrifice fly to right for a 2-1 advantage. Bobbie Hilton, who had been hit-by-a-pitch, would move from first all the way around the bases on Shaylee Skinner's RBI-double to left-center field. Courtesy runner Bailey Taylor came in on Courtney Knight's single to left. A pop out to short ended the frame.
Both teams went quietly in the second before Macks Creek plated another run in the third. Caytlin Eidson reached when her ball to center was dropped, moved to second on a wild pitch ahead of a Shaylee Skinner walk, to third when Myra Cortez was beaned, and then in to score on a Courtney Knight sacrifice fly to left.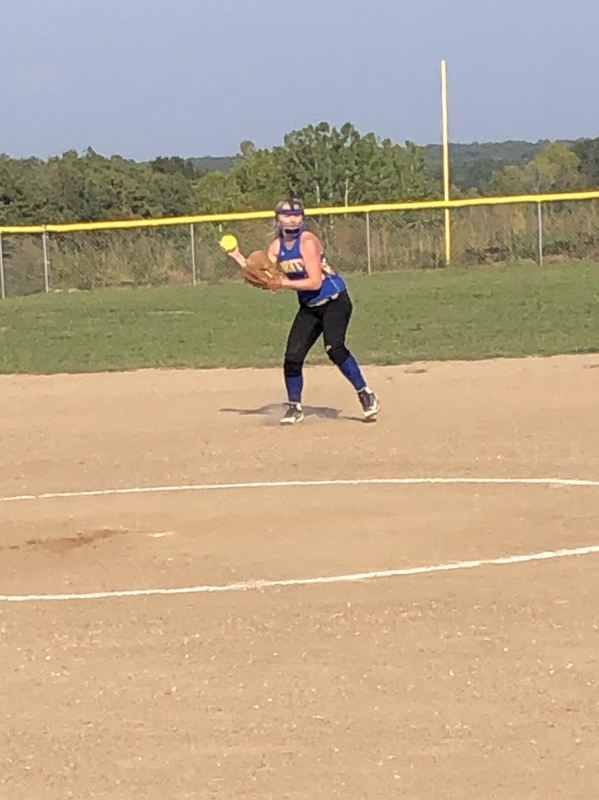 The Lady Pirates scored five more runs in the fourth. Alyssa Seaholm hit a bloop single to left before coming around to score on Bobbie Hilton's RBI-triple down the line in left. She would score on a wild pitch. Following a strike out, Shaylee Skinner collected her second double of the night before being replaced by a courtesy runner. After a pitching change, Myra Cortez and Courtney Knight were hit by pitches before Bethany Schmidt cleared the bases with a double down the left field line into the corner. Molly Phillips and Jesse Willis were both beaned to load the bases again. A second pitching change brought Seaholm back to the plate, where she hit a soft liner to third for the out, and a tag of the base doubled-up Schmidt for out number three.
Macks Creek plated their final run in the bottom of the sixth. Myra Cortez was hit for the third time in the night. Following a pitch, an back-pick attempt by the pitcher sailed down the right field line and allowed Cortez to score from first and end the game via the run-rule.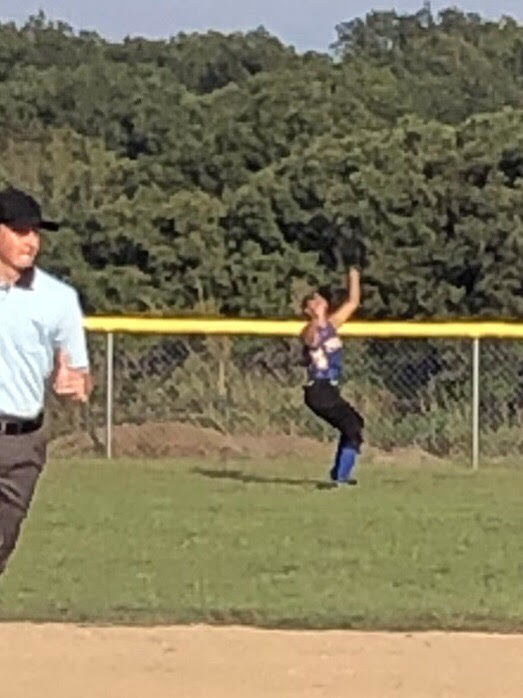 "We played much better tonight defensively and rebounded well offensively from last night," said Macks Creek's Jason Trusty.
Shaylee Skinner (2-1) picked up the win with her six innings of work. She allowed the one run on two hits while striking out two, walking one, and hitting two batters.
Heavenly Lewton took the loss for Wheatland. She worked the first three-and-two-thirds innings, allowing eight runs, six earned, on six hits while striking out two, walking three, and hitting three. Avery Adcock worked in the fourth but did not record an out. She allowed three runs on one hit and hit four batters. KJ Griffin worked an inning-and-a-third, allowing one unearned run with one strikeout and one hit batter.
Shaylee Skinner doubled twice and Alyssa Seaholm singled twice to pace the Lady Pirate offense. Skinner also had an RBI while Seaholm scored twice. Bobbie Hilton tripled in a run, was hit-by-a-pitch, and scored two runs, Courtney Knight had an RBI-single, an RBI-sacrifice fly, scored a run, and was hit-by-a-pitch, and Bethany Schmidt collected a three-RBI-double. Jesse Willis walked, was hit-by-a-pitch, and scored a run, Caytlin Eidson reached on an error, scored, and had an RBI, Myra Cortez scored twice and was hit three times, and Molly Phillips walked once and was hit twice. Bailey Taylor scored two runs as a courtesy runner in the contest.
Taylor Hunt and Heavenly Lewton collected the only hits for the Lady Mules, both being singles. Lewton also walked and scored a run. KJ Griffin reached on an error and had an RBI on a sacrifice fly, Samantha Taylor was hit-by-pitches twice, and Avery Adcock reached on an error.
Macks Creek moves to 5-2 overall, 3-0 in PCL play, while Wheatland falls to 3-7, 2-2 in the PCL. Both teams are off until Friday when they compete in the Weaubleau Softball Tournament.
The Lady Pirates JV dropped to 1-4-1 with an 8-6 loss in the night cap.
Molly Phillips started and took the loss. She worked all three innings and allowed eight runs, six earned, on two hits while walking three and hitting three batters.
Kenzie Hicks, Bailey Taylor, Catie Gabriel, Vanessa Wallace, Ciera Compton, and Callie leach were each hit by pitches. Emma Waters, Syrena Rector, and Cieanna Earney all reached twice on hit by pitches. Amber Klinksick walked. Taylor, Klinksick, Waters, Rector, Earney, and Wallace all scored.
VARSITY BOX SCORE
| | | | | | | | | | |
| --- | --- | --- | --- | --- | --- | --- | --- | --- | --- |
| | 1 | 2 | 3 | 4 | 5 | 6 | R | H | E |
| WHS | 1 | 0 | 0 | 0 | 0 | 0 | 1 | 2 | 2 |
| MC | 4 | 0 | 1 | 5 | 0 | 1 | 11 | 7 | 2 |