Lady Pirates Compete in Weaubleau Tournament
Jason Trusty
Sunday, September 22, 2019
WEAUBLEAU - The Macks Creek Lady Pirates took part in the Weaubleau Softball Tournament on Friday and Saturday. They were able to get in a game on Friday and one on Saturday, but their second Saturday game was cut short due to rain and moved to Monday. Here is a recap from games one and two.
GAME 1, FIRST ROUND (Friday): (5) Leeton 14, (4) Macks Creek 5
The fourth-seeded Lady Pirates fell to the fifth-seeded Lady Bulldogs of Leeton on Friday night by the score of 14-5.
After Leeton had scored two runs in the top of the first Macks Creek plated four of their own in the home-half. Jesse Willis reached on an error and Bobbie Hilton singled to center to put runners at first and second with one out. Caytlin Eidson's fielder choice to third eliminated Willis, but Shaylee Skinner laced a two-RBI-double to right-center field to tie the game at two. Myra Cortez then followed with her first career Varsity home run, a line drive down the left field line to plate both herself and courtesy runner Catie Gabriel and give Macks Creek a 4-2 lead. It was the last time the Lady Pirates would score until the fifth.
The second inning went quietly for both teams, with Bethany Schmidt being the only base runner for either. She reached on an error in the second. In the third inning Leeton sent 12 hitters to the plate and scored eight runs to put this one out of reach. They utilized five hits, two errors, and some wild pitches to do their damage in the frame. They went on to plate three in the fourth and one more in the fifth to round out their scoring.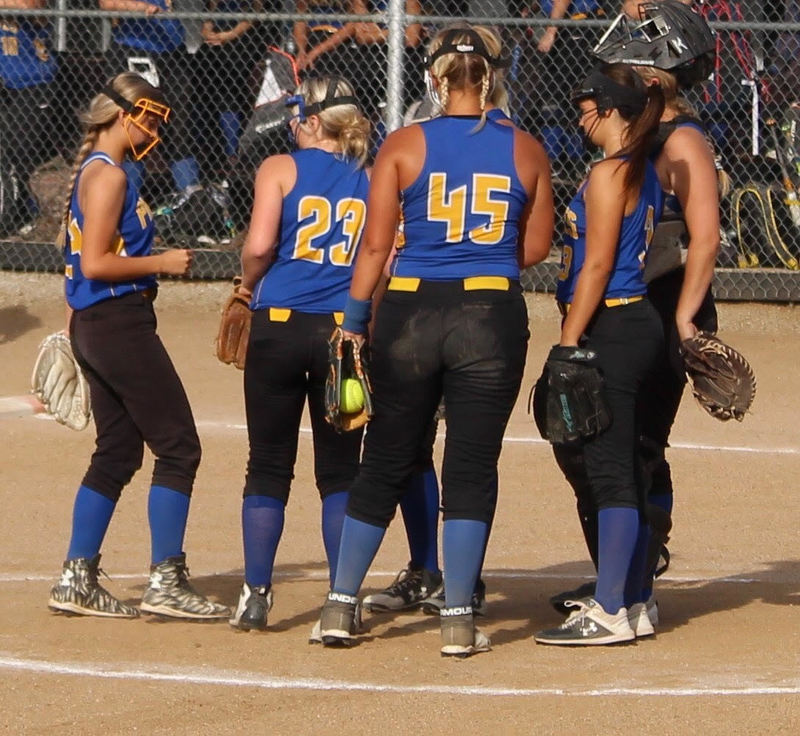 The Lady Pirates were held scoreless until their half of the fifth when Bobbie Hilton laced a line drive to center, collecting her second home run of her career. Caytlin Eidson then singled before a ground ball to second off the bat of Shaylee Skinner resulted in a game-ending double play.
"Defensively we had a hard time making plays behind our pitcher and we didn't make the necessary adjustments at the plate," commented Macks Creek's Jason Trusty, "those are a bad combination."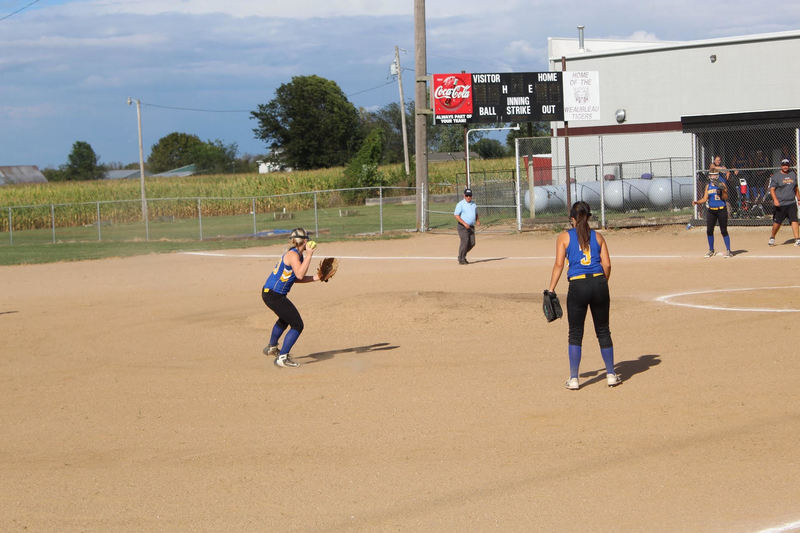 Shaylee Skinner(2-2) took the loss in the circle. She was touched for 14 runs, three earned as the Lady Pirates committed 10 errors in the contest, on seven hits, while striking out four, and walking two.
Bobbie Hilton paced the offense with two singles and a home run in her three trips to the plate. She also scored a run and had an RBI. Caytlin Eidson singled, reached on a fielder's choice, and scored, Shaylee Skinner had a two-RBI-double and reached on a fielder's choice, and Myra Cortez homered, scored a run, reached on an error, and had an RBI. Jesse Willis and Bethany Schmidt each reached on errors as well. Syrena Rector and Catie Gabriel each scored as courtesy runners.
VARSITY BOX SCORE
| | | | | | | | | |
| --- | --- | --- | --- | --- | --- | --- | --- | --- |
| | 1 | 2 | 3 | 4 | 5 | R | H | E |
| LHS | 2 | 0 | 8 | 3 | 1 | 14 | 7 | 3 |
| MC | 4 | 0 | 0 | 0 | 1 | 5 | 6 | 10 |
GAME TWO, CONSOLATION SEMIS (Saturday): (4) Macks Creek 14, (8) Hermitage 0 (3 innings)
Macks Creek rebounded on Saturday with a 14-0, three inning win over the Hermitage Lady Hornets in the Consolation Semifinals.
Hermitage had two runners reach in the top of the first, but a double play and a caught stealing ended any threat. The Lady Pirates went to work offensively in the bottom of the inning.
Alyssa Seaholm walked and stole before Jesse Willis hit a ball to short that was misplayed. Seaholm would score on the play and Willis reached second. Following a steal of third Caytlin Eidson laced a triple to left to plate Jesse. Eidson would score on Shaylee Skinner's RBI-ground out to third on the next play. Myra Cortez was hit-by-a-pitch and then score when Kenzie Hicks tripled down the left field line. Bethany Schmidt and Molly Phillips were hit by back-to-back pitches before Alyssa Seaholm cleared the bases with a two-RBI-single, scoring both Hicks and Schmidt, with Phillips coming around to score when the ball went through the legs of the left fielder. Alyssa reached second on the play. After a wild pitch Jesse Willis singled up the middle to bring in Seaholm and push the Lady Pirates advantage to 8-0.
Hermitage had a runner reach on an error and a fielder's choice but were unable to plate anything in their half of the second. Macks Creek plated six more runs in their half of the inning.
Caytlin Eidson led off with her first career Varsity home run to center field. After a pop out Myra Cortez was hit-by-a-pitch and moved to second when Kenzie Hicks's pop up to first was dropped, Hicks reach on the play. A wild pitch moved both runners up a base ahead of a Bethany Schmidt walk that loaded the bases. Molly Phillips would coax a walk to bring in Cortez. A fly ball to center off the bat of Alyssa Seaholm brought in Hicks and Jesse Willis cleared the bases with a ball up the middle that was misplayed and complete the scoring for the Lady Pirates at 14-0. Hermitage did not score in the top of the third and the game ended via the tournament run-rule.
"We came out with a lot more energy this morning and rebounded nicely from last night's game," commented Coach Trusty.
Bethany Schmidt (4-0) collected the win with her three innings of work. She allowed two singles while walking one and hitting one.
Offensively Caytlin Eidson banged out an RBI-triple and a home run to pace the Lady Pirates. Alyssa Seaholm also singled, walked, had two RBI's and three runs scored, Jesse Willis singled, reached twice on errors, scored once, and had an RBI, and Kenzie Hicks tripled in a run, reached on an error, and scored two runs. Myra Cortez was hit-by-pitches twice and scored twice, Bethany Schmidt was beaned and walked, and Molly Phillips was hit-by-a-pitch, walked, and scored two runs. Syrena Rector scored twice as a courtesy runner in the contest.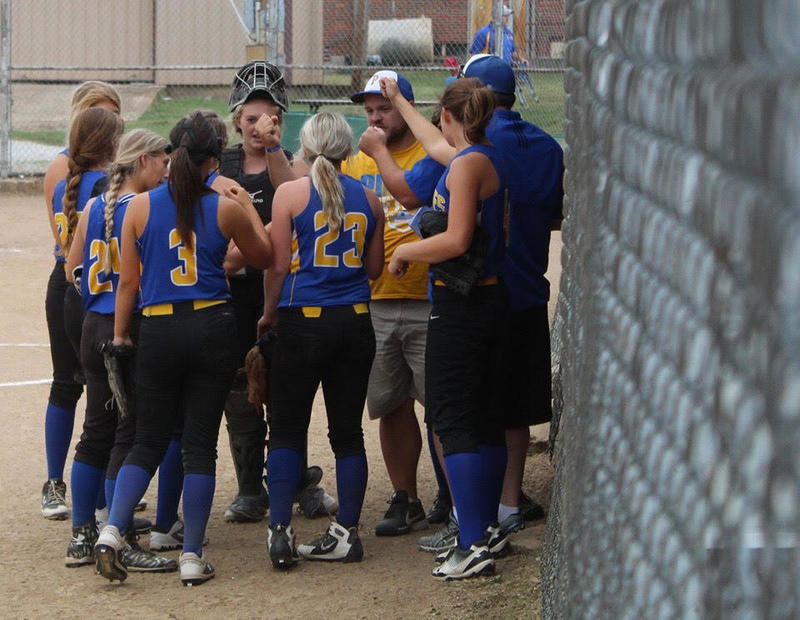 VARSITY BOX SCORE
| | | | | | | |
| --- | --- | --- | --- | --- | --- | --- |
| | 1 | 2 | 3 | R | H | E |
| HHS | 0 | 0 | 0 | 0 | 2 | 5 |
| MC | 8 | 6 | X | 14 | 5 | 1 |
Macks Creek had started the Consolation game with Morrisville, but three lightning delays caused the game to be postponed. The Lady Pirates were already scheduled to play in Morrisville on Monday, so the game will resume then. They were ahead 2-1 going into the bottom of the second inning with Morrisville coming to the plate. Game time had 50 minutes remaining. Following the completion of the tournament game, the two teams will play their regular season contest. Game time is slated for 4:30. No JV game will be played that night. Overall the Lady Pirates currently sit at 6-3. Macks Creek will also travel to Calvary Lutheran on Tuesday before hosting Stoutland on Thursday.
Photos Courtesy of Gamde Day Photography