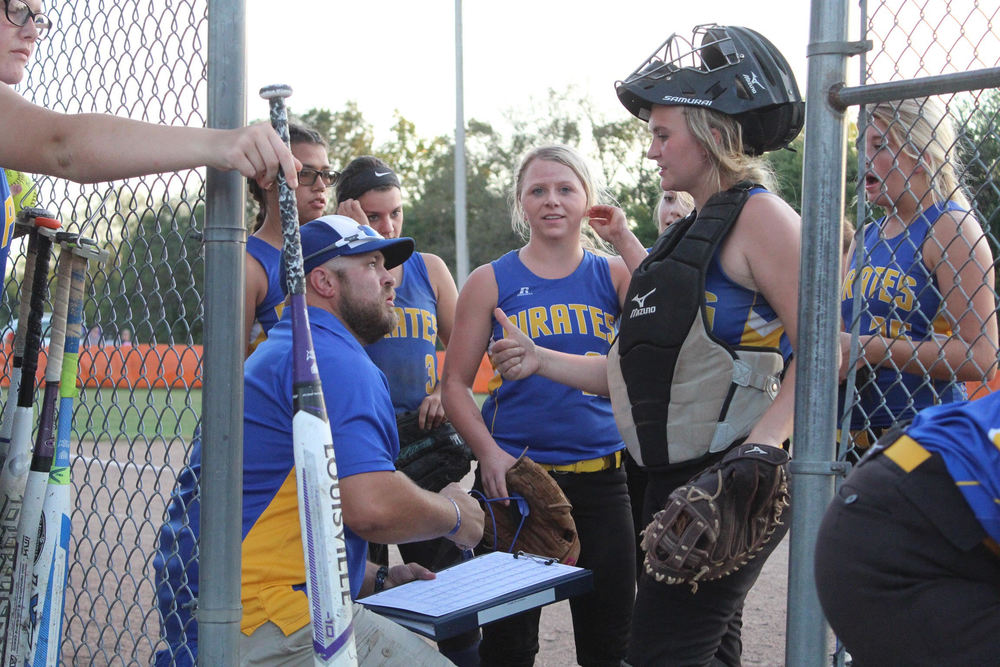 Lady Pirates Battle Back Against Lady Bears
Jason Trusty
Tuesday, October 01, 2019
RICHLAND - Macks Creek rallied from a 2-0 deficit and withstood a Richland rally in the sixth and seventh to come away with a 5-4 win on Tuesday night.
Trailing 2-0 in the fifth, Macks Creek plated their first run. Kenzie Hicks hit a high fly ball to left that was misplayed and reached third. Alyssa Seaholm's ground ball to third was kicked and allowed Hicks to score. An error at short on a ball off the bat of Jesse Willis put runners at first and second. A ground out to second moved both runners up a base. After Seaholm was picked off at third, a pop out to short ended the Lady Pirate threat.
In the top of the sixth Macks Creek plated four runs to take a 5-2 lead. Myra Cortez and Courtney Knight were hit-by-pitches with one out. Bethany Schmidt laid down a sacrifice bunt to place both runners in scoring position. An attempt to back-pick Cortez at third saw the ball go into short left and let her score to tie the game. Knight moved to third on the play. Kenzie Hicks then lifted a single to right and score the runner, putting Macks Creek ahead 3-2. Alyssa Seaholm hit a small pop up in front of home on the next pitch. She would beat the throw to first and the ball would go into right field. Hicks reached third on the play with Seaholm reaching second. Jesse Willis then laced a two-RBI-single to left. She would move to second on the throw home, but would be thrown out trying to reach third for the final out of the half inning.
The Lady Bears cut the lead to one with two runs in their half of the sixth. Savannah Gibson reached on an error by the pitcher and moved to second on a passed ball. Vivian Sherrer drove her in with a single to right and moved to second on an error by the fielder. A wild pitch moved her to third before Brandi Allen hit a sacrifice fly to left to bring in the second run of the inning and cut the deficit to 5-4. Jesse Ellsen singled and moved to second on a passed ball before Morgan Ledbetter walked. A strikeout and a pop out to short ended the frame.
After Macks Creek went 1-2-3 in the top of the seventh, Richland looked to tie the game. Dakota Cruz singled to center just ahead of a strike out. Savannah Gibson hit into a fielder's choice that saw Cruz eliminated at second before a ball to short was fielded and and throw to first for the final out of the game.
Richland had taken a lead in the third inning with two runs. Abbie Latham tripled to right and scored on Dakota Cruz's RBI-double to right-center field. Cruz would move to third on Miranda Moss's single to right and score on Savannah Gibson's RBI-sacrifice fly to left.
Macks Creek had a chance to score in the fourth when they loaded the bases, but were unable to get a run across. Bobbie Hilton was beaned, Caytlin Eidson singled, and Myra Cortez laid down a bunt single, but all three runners would remain stranded as a strikeout and a pop out to third ended the threat.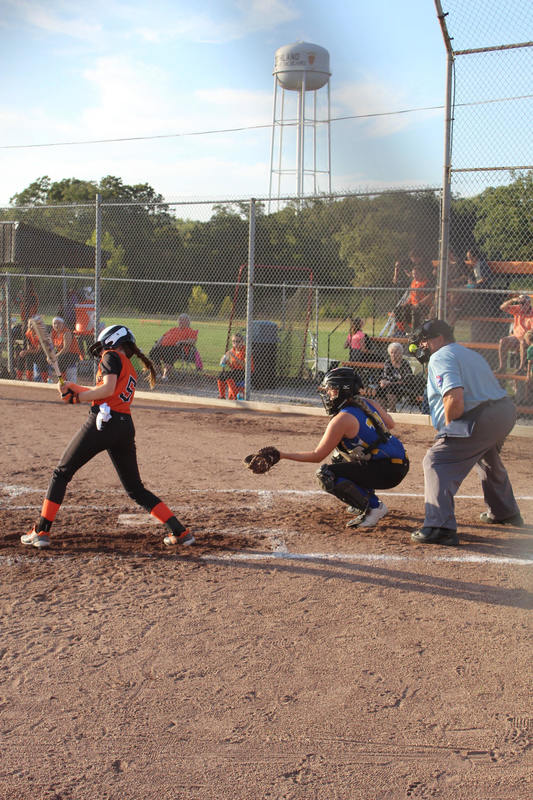 "It took us a while to make some adjustments again this evening at the plate," said Coach Jason Trusty, "when we did we put the ball in play and put pressure on the defense."
"We also had some timely hitting that had been evading us with runners on tonight."
Myra Cortez collected two hits in two trips to the plate to pace the Lady Pirates' offense. She was also hit-by-a-pitch and scored a run. Alyssa Seaholm singled, reached on an error, and scored, Jesse Willis had a two-RBI-single and reached on an error, Caytlin Eidson singled, and Kenzie Hicks collected a single, reached third on a three-base error, scored twice, and had an RBI. Bobbie Hilton reached on a hit-by-pitch, Courtney Knight was beaned and scored a run, and Bethany Schmidt walked and had a sacrifice bunt.
Dakota Cruz doubled and singled to lead the Lady Bears's offense. She also scored a run and had an RBI. Abbie Latham tripled, reached on an error, and scored, Miranda Moss singled, Vivian Sherrer singled and scored a run, and Jessie Ellsen singled, walked, and reached on an error. Savannah Gibson reached on an error, scored, and had an RBI-sacrifice fly, Brandi Allen also collected an RBI on a sacrifice fly, and Morgan Ledbetter walked.
Shaylee Skinner (4-3) worked the complete game in picking up the win. She was touched for four runs, two earned, on six hits while striking out four and walking two.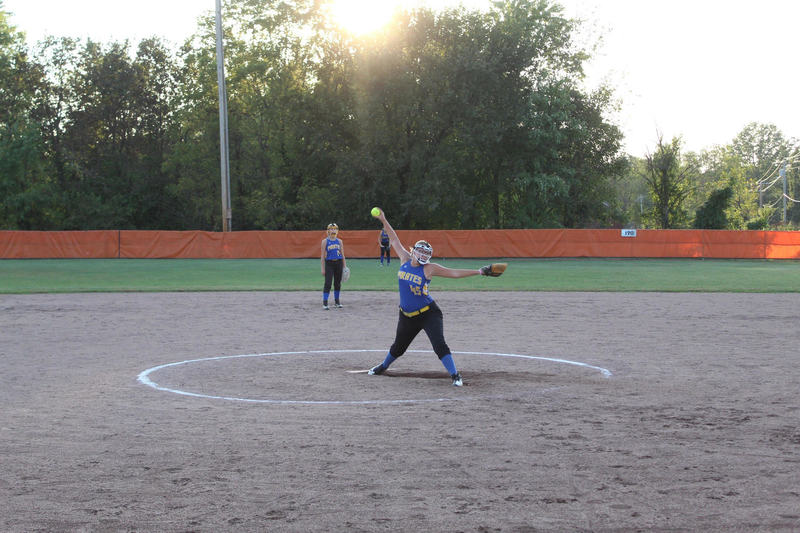 Vivian Sherrer worked a complete game as well in the loss. She allowed five runs, one earned, on six hits while striking out five, walking one, and hitting three batters.
Macks Creek improves to 9-6 while Richland drops to 1-10. The Lady Pirates travel to Springfield Central on Thursday before competing in the Hermitage Tournament on Friday and Saturday. Richland is off until the weekend when they compete in the Vienna Fall Classic on Saturday.
The Lady Pirates JV fell in the night cap with a 6-5 loss.
Molly Phillips suffered the loss in relief of starter Catie Gabriel. Phillips was touched for two runs in her plus-innings of work on three hits. Gabriel had worked the first two innings and surrendered four runs on one hit while striking out one, hitting one batter, and walking four.
Offensively Molly Phillips and Amber Klinksick collected the only hits for the JV. Molly scored, walked, and had an RBI while Klinksick cross the the plate once. Bailey Taylor walked twice and scored once, Catie Gabriel reached on an error, Cieanna Earney, Ciera Compton, Vanessa Wallace, and Callie Leach all walked. Earney and Compton scored while Wallace and Leach collected RBI's.
The JV Lady Pirates fall to 1-5-1 with the loss.
VARSITY BOX SCORE
| | | | | | | | | | | |
| --- | --- | --- | --- | --- | --- | --- | --- | --- | --- | --- |
| | 1 | 2 | 3 | 4 | 5 | 6 | 7 | R | H | E |
| MC | 0 | 0 | 0 | 0 | 1 | 4 | 0 | 5 | 6 | 4 |
| RHS | 0 | 0 | 2 | 0 | 0 | 2 | 0 | 4 | 6 | 4 |
Photos Courtesy of Game Day Photography