Lady Pirates Celebrate Senior Night with Win
Jason Trusty
Thursday, October 10, 2019
MACKS CREEK - Macks Creek celebrated Senior Night with an 18-3 win over the Humansville Lady Tigers on Wednesday night. The game had been moved up a day due to heavy rain in the forecast on Thursday.
Humansville took their only lead with a single run in the top of the first. Maliah Kenney tripled to the wall in right and then scored on Jahnna Essex's sacrifice fly to left. Humansville would lead 1-0 after one.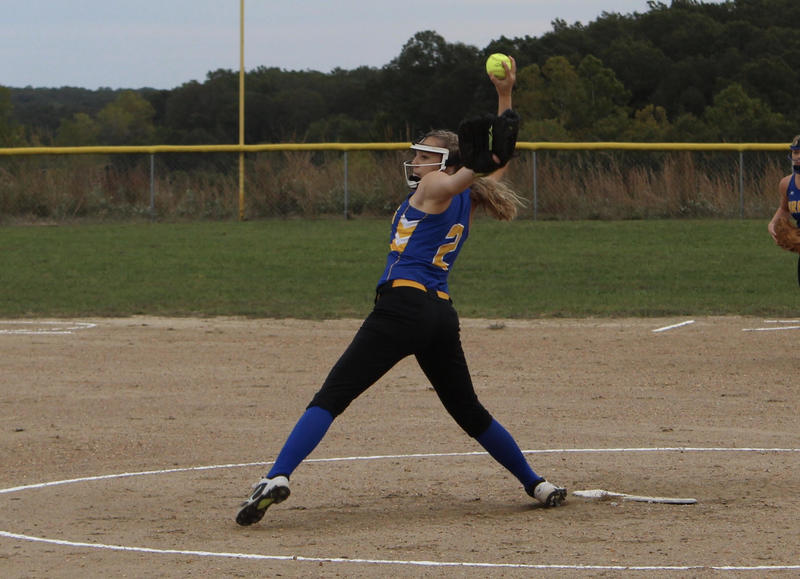 In the bottom of the first the Lady Pirates sent 19 hitters to the plate and scored 14 runs. Myra Cortez was hit-by-a-pitch and then stole second. Jesse Willis walked and both runners pulled off a double-steal before Bobbie Hilton tripled to the wall in left to put the Lady Pirates up 2-1. Hilton would score on a wild pitch. Caytlin Eidson doubled to right and came in to score on Shaylee Skinner's double. She moved to third on an error by the center fielder on the same play. Alyssa Seaholm would then walk and steal second before Bethany Schmidt walked to load the bases. A pop out to the short for the second out brought Kenzie Hicks to the plate. Three walks in a row to Hicks, Cortez and Willis brought in two runs before Bobbie Hilton doubled to center, clearing the bases in the process. Courtesy runner Syrena Rector moved to third on Caytlin Eidson's single to right. After Eidson stole second, Rector and her would move up a base on wild pitch, with Syrena crossing the plate. The lead was now at 11-1. Caytlin would later come in on a wild pitch. Shaylee Skinner walked and moved up on wild pitches to third. A fly out to left for out number allowed Molly Phillips to come to the plate. She would draw a walk to load the bases. Kezie Hicks would collect an RBI with a walk and Myra Cortez would be beaned for the second time in the inning and put the lead at 14-1. A ground ball to the pitcher came home to retire the runner and end the frame.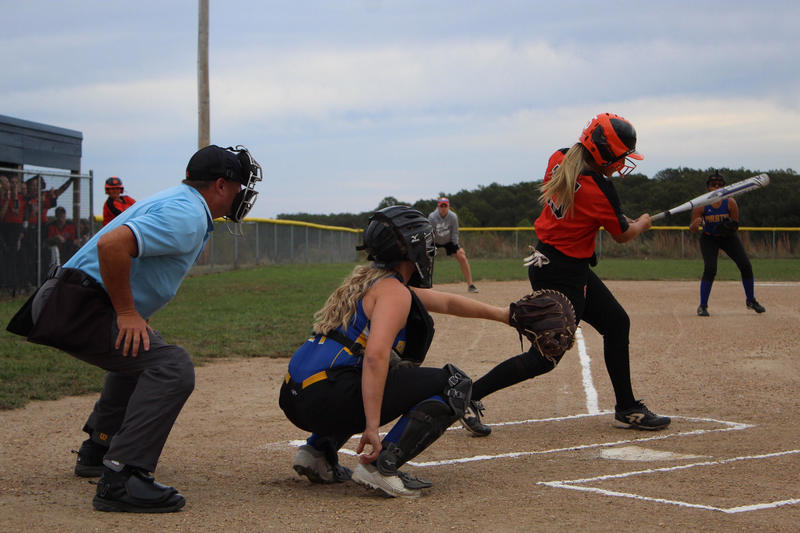 A 1-2-3 top of the second brought the Lady Pirates back to the plate in the bottom. Bobbie Hilton had a bloop-single to lead off the inning. A pop out to the pitcher allowed Shaylee Skinner to come to the dish. Hilton moved to third on a passed ball and Skinner walked. Alyssa Seaholm hit a ball to short and the throw went home to try and get Hilton. The throw went wide and Skinner to moved to reach. A wild pitch allowed Alyssa to reach second. Bethany Schmidt walked to load the bases and Molly Phillips hit a ball back up the middle to plate Skinner and Seaholm. Back-to-back pop outs ended the frame with Macks Creek ahead 17-1.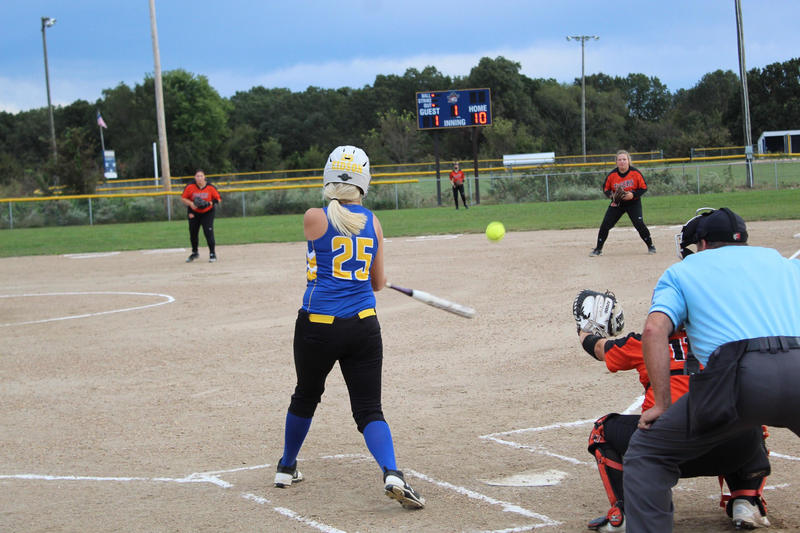 In the top of the third the Lady Tigers would plate their last two runs. Lady Pirates' reliever Jesse Willis walked Navaeh White, Maliah Kenney, Jahnna Essex, and Alex Hopkins, with White coming in to score and Hopkins collecting the RBI. Following a pitching change Shaylee Skinner faced Katelyn Hoskins. Hopkins hit a ball to third, where the third baseman made a throw home to get Kenney. The throw to first went off the helmet of the runner, Hoskins, and into right field. Jahnna Essex was able to race home on the play. When the ball came back in to home, the runner from first took off towards second. The pitcher threw the ball to the second baseman to attempt to get an out. The back runner, Hoskins, lapped the lead runner, Hopkins, and was called out. Hopkins was tagged on the play, resulting in a triple play to end the inning.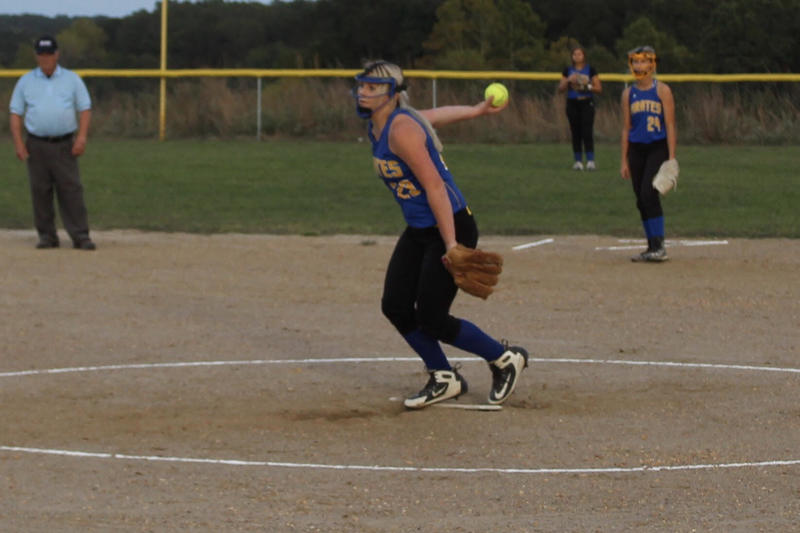 The game ended via the run-rule in the bottom of the third. Jesse Willis walked and moved to second when Bobbie Hilton was hit-by-a-pitch. A ground ball to third by Caytlin Eidson saw Willis erased. A wild pitch moved Hilton and Eidson up a base before Bobbie was able to score on another wild pitch, ending the game.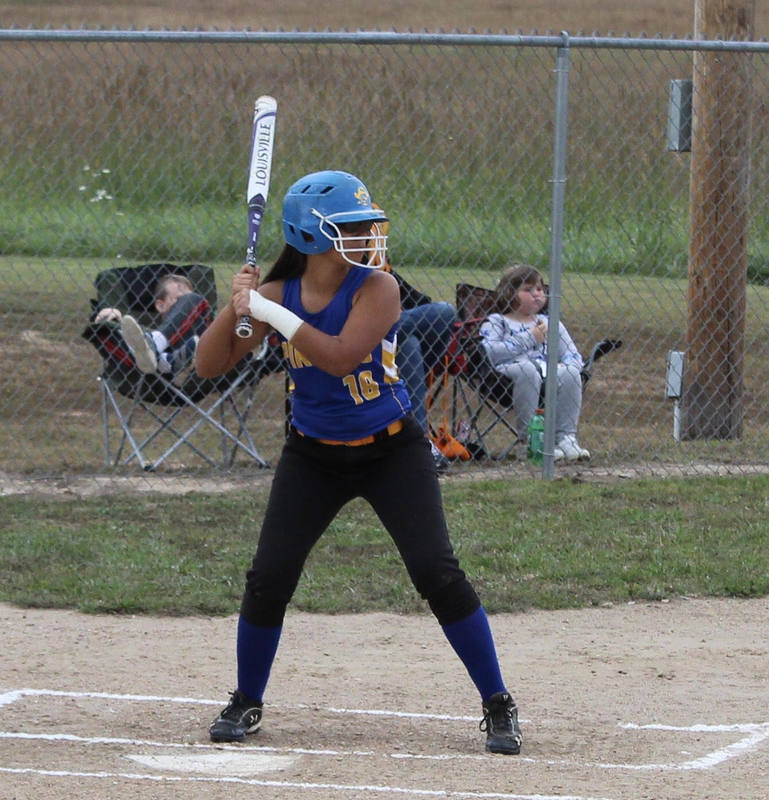 "We did a great job of being patient at the plate and hitting pitches in our zones," commented Coach Jason Trusty, "We are glad to get a win for our Seniors on Senior Night as well."
Bethany Schmidt (6-2) picked up the win. She worked the first two inning and allowed one run on one hit while striking out one and hitting one batter. Jesse Willis relieved in the third and faced four batters, walking all four and allowing two runs, one earned. Shaylee Skinner faced one batter and was in the circle for the triple play.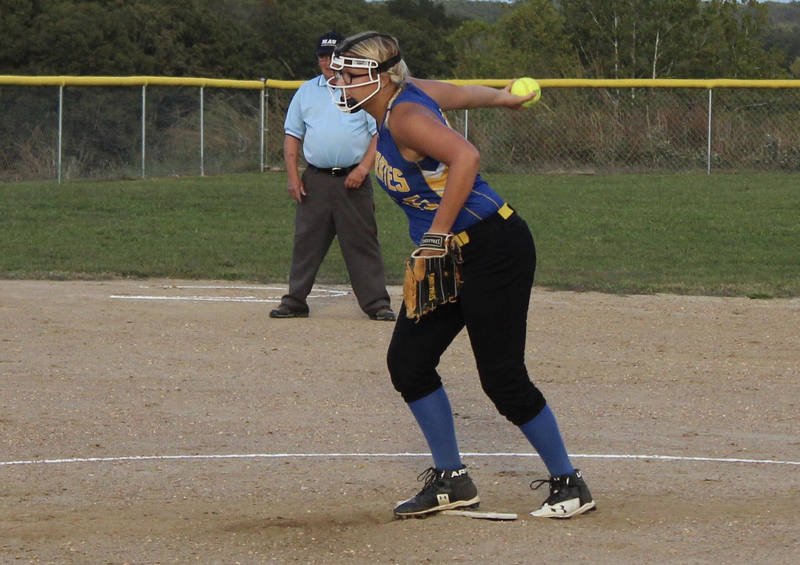 Navaeh White started and took the loss for Humansville. She allowed 10 runs, nine earned, in a third of an inning. She walked six, hit one, and allowed three hits. Maliah Kenney relieved and worked the last one-and-two-thirds innings, allowing eight runs, six earned, on four hits while walking seven and hitting two batters.
Each spot in the Lady Pirates lineup produced a run or a runner in the contest. Bobbie Hilton fell a homer short of the cycle. She tripled, doubled, and singled, scored three runs and drove in five. Caytlin Eidson singled, doubled, and scored twice, Shaylee Skinner doubled, walked twice, and scored three runs, and Molly Phillips singled in two runs. Myra Cortez was hit twice, walked once, scored twice, and had two RBI's, Jesse Willis walked three times, scored twice, and had an RBI, Alyssa Seaholm walked, reached on a fielder's choice, scored two runs, and had an RBI, Bethany Schmidt walked three times and scored once, and Kenzie Hicks walked twice, scored once, and had two RBI's. Syrena Rector and Catie Gabriel each scored runs as courtesy runners.
Maliah Kenney collected the only hit for Humansville, a triple, and scored once, She also walked. Jahnna Essex had an RBI, walked, and scoed a run, Alex Hopkins walked, Azuree Knight was hit-by-a-pitch, and Naveah White walked and scored.
Macks Creek improves to 12-10, 4-2 in PCL play while Humansville falls to 0-21, 0-7 in the PCL. Macks Creek will play their final regular season game at home against Walnut Grove on Monday.
Following the game the Lady Pirates celebrated six Seniors for Senior Night. Myra Cortez, Caytlin Eidson, Bethany Schmidt, Shaylee Skinner, and Jesse Willis have each been members of the squad for four years, while Bobbie Hilton has been with the team for two. The coaching staff and players would like to thank each of them for their hard work and time over the past few years. We also wish them well in all their future endeavors.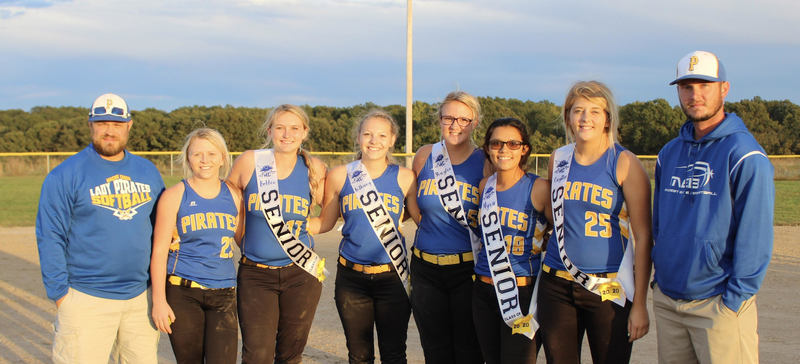 VARSITY BOX SCORE
| | | | | | | |
| --- | --- | --- | --- | --- | --- | --- |
| | 1 | 2 | 3 | R | H | E |
| HHS | 1 | 0 | 2 | 3 | 1 | 2 |
| MC | 14 | 3 | 1 | 18 | 7 | 1 |

Photos Courtesy of Game Day Photography