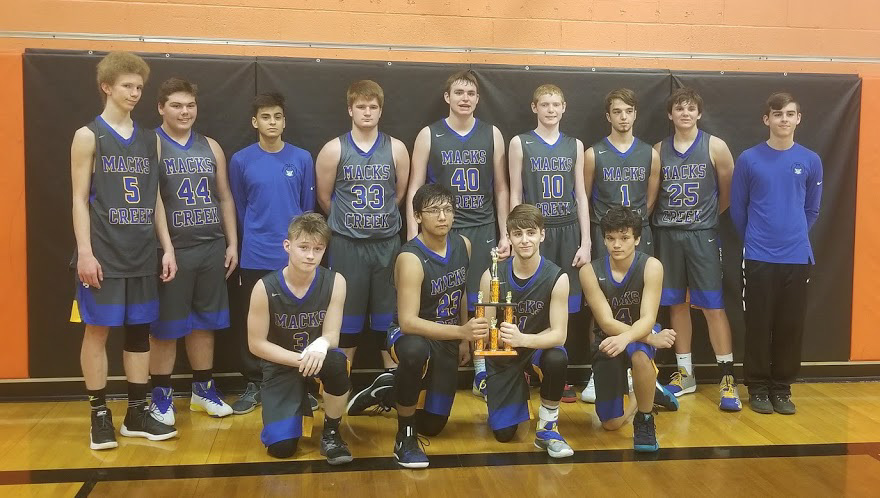 MC Pirates Boys Humansville Tournament Recap
Brad Kolwyck
Thursday, December 13, 2018
Macks Creek took 3rd place in last weeks 85th annual Humansville Tournament. In the opener, the Pirates made quick work of the Hermitage Hornets by jumping out to a 20-8 first quarter lead and then cruised to a 78-50 win. Macks Creek was led by Hunter Lane with 23 points and 26 rebounds. Senior Oscar Cortez added 15 and Sophomore Trevor Haines added 10. Cole Register was 3 for 3 from 3-point range and had 9, along with fellow Junior Colton Walter also with 9. For the second game in a row, the Pirates set a new school record with 26 assists.
The semi-final game pitted no. 10 in the State, Halfway Cardinals against the Pirates. The Pirates jumped out to a 10 point lead in the first half, but Halfway closed the gap at halftime and trailed the Pirates by 4 at half. Again Macks Creek jumped out quickly and led by 9 with 2 minutes to go in the third, but foul trouble allowed Halfway to take a 1 point lead into the fourth quarter. It was all Halfway in the Fourth quarter which sent the Pirates to the third place game by defeating Macks Creek 77-66. Zane Whitworth led the Pirates with 20, while fellow Senior Oscar Cortez had 17 and Hunter Lane added 16.
Macks Creek came out firing on all cylinders in the third place game against Dadeville as they jumped out to a 23-6 first quarter lead and never looked back to bring home their first trophy of the season and a convincing 75-55 win. Hunter Lane's 30 points and 18 rebounds led all scorers while teammates Zane Whitworth had 15 and Oscar Cortez added 11.
"Even though we had Halfway on the ropes and didn't finish it, we grew a lot as a team this week and know that we have the opportunity to be a special team this year. I'm really proud of all the boys and how hard they play for me," added Coach Duggan. Hunter Lane with his 69 points and 54 rebounds, and Zane Whitworth adding 42 points, both were named to the All-Tournament Team. An honorable mention for Oscar Cortez as he had 43 points and 19 assists.
Coach Ron Duggan - Author