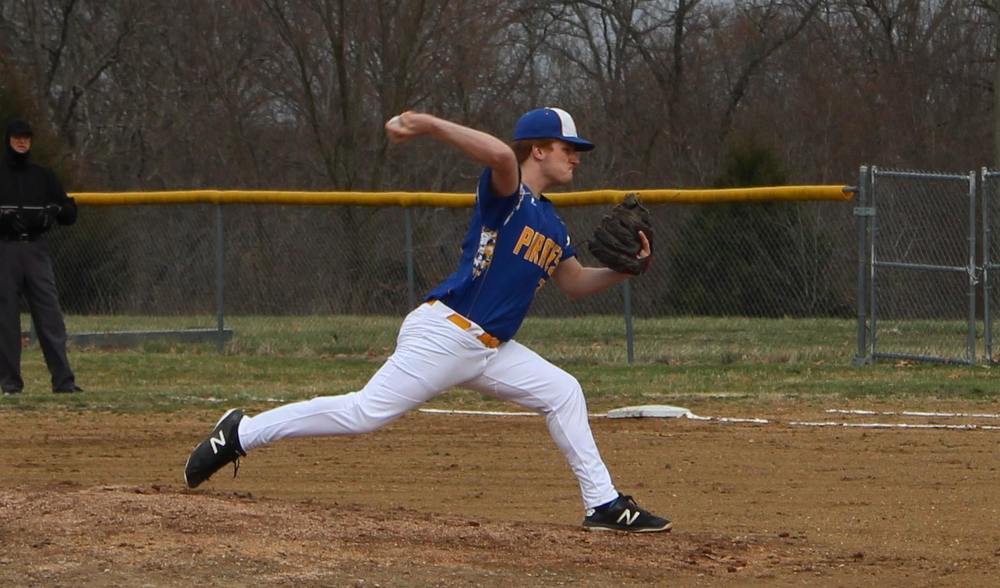 Pirates Win Baseball Home Opener
Jason Trusty
Monday, March 25, 2019
MACKS CREEK - The Macks Creek Pirates picked up their second win of the Spring in their home opener, defeating the visiting Hermitage Hornets 10-0 in six innings on Monday night.
The Hornets went quiet in the top of the first while Macks Creek plated one. Cole Register walked with one out, stole second, and then scored on Hunter Lane's single to right for an early 1-0 lead. They plated three more in the second inning. Oscar Cortez walked, moved to second on a passed ball, stole third, and then scored on a wild pitch. Tanner Smith walked and stole second. Carsen Strutz walked, both he and Tanner moved up a base on a wild pitch, and Smith came in to score on Zane Whitworth's ground out to second. Strutz moved to third on the play and would eventually score on a balk call. The Pirates lead was now 4-0.
Wyatt Mooney reached on a hit-by-pitch for the Hornets in the third but would remain stranded. Macks Creek plated three more runs in their half of the frame. Hunter Lane walked before coming in to score on Trever Smith's RBI-double to right-centerfield. Trever would then score on Colton Walter's RBI-single. The throw to the plate allowed Colton to move to second. He advanced to third on Oscar Cortez's ground out to short and would then score on Tanner Smith's RBI-ground out to the shortstop. Carsen Strutz would walk but would be stuck at first when out number three was recorded.
Hermitage threatened to score in the stop of the third. With one out Justin Mitchell walked and stole second before moving to third on a wild pitch. Hunter Sanders walked and stole second in the next at-bat, before consecutive strike outs by Macks Creek starter Tanner Smith stopped the rally short. Macks Creek plated one more run in the fourth. With one out Cole Register walked, moved to second on a wild pitch, and came around to score on another Hunter Lane single for an 8-0 lead after four.
Both sides would go quietly in the fifth. After a 1-2-3 top of the sixth Macks Creek plated two runs to end the game at 10-0. Grant English singled to lead off the inning and then came around to score on Cole Register's double to left. Register would then come across the plate when Hunter Lane collected his third hit and RBI on a double to left field.
"We did a nice job of making some adjustments early at the plate and keeping the pressure on the defense," said Coach Trusty, "we put the ball in play enough and showed some more patience at the plate again tonight as well."
Tanner Smith (1-0) picked up his first win of the Spring and of his Varsity career with four-and-two-thirds innings of work. He struck out nine, walked three, and hit one batter. Zane Whitworth worked the final inning-and-a-third, striking out three of the four batters he faced.
"Tanner threw well and could have stayed in to finish if not for pitch count, and, Zane did a great job coming in and throwing strikes," commented Coach Trusty.
Justin Mitchell took the loss for Hermitage. He started and worked the first one-plus innings, allowing three runs on one hit while striking out one and walking three. Clay Horn worked an inning-plus as well, allowing three runs, two earned, on one hit to go along with one strikeout and two walks. Rory Higgins worked one-and-a-third innings and was touched for two runs on two hits while striking out one and walking two. Hunter Sanders worked one-and-two-thirds of an inning and allowed two runs on three hits while striking out one and hitting one batter.
Offensively Hunter Lane paced the Pirates with two singles and a double in three official trips to the plate. He also walked once, collected three RBI's, and scored a run. Grant English singled and scored, Cole Register doubled in a run, walked twice, and scored three runs, Trever Smith had an RBI-double and a run scored, and Colton Walter singled, scored, and had an RBI. Oscar Cortez walked, was hit-by-a-pitch, and scored, Tanner Smith walked once, scored, had an RBI and reached on an error, Carsen Strutz walked twice and scored once, and Zane Whitworth had an RBI-ground out.
Justin Mitchell reached base twice for the Hornets, walking and making it to base on an error. Hunter Sanders walked and Wyatt Mooney was beaned and walked as well.
Macks Creek improves to 2-0 overall and 2-0 in the PCL. Hermitage falls to 0-3 and 1-1 in the PCL. Macks Creek is back in action on Tuesday (today) as they play host to Stover.
The Pirates JV suffered a 7-0, three-inning setback in the night cap.
Grant English was tagged with the loss. He worked the first inning and was touched for three unearned runs while striking out two, walking one, and surrendering one hit. Cole Register allowed an unearned run in the second. He struck out two and walked one as well. Carsen Strutz threw the third and allowed three unearned runs on one hit while striking out one and walking two.
Preston Borgmeyer was the only JV Pirate to reach base, as he did on a dropped third strike. He would make it to third on the play before being thrown out at home trying to score on a wild pitch.
VARSITY BOX SCORE
1 2 3 4 5 6 R H E
HERM. 0 0 0 0 0 0 0 0 1
MC 1 3 3 1 0 2 10 7 1
Photos Courtesy of Game Day Photography