Thanks to the generosity of an anonymous donor, Macks Creek School is proud to introduce an all new way to preserve and share students' accomplishments and school history. Our intent is to maintain and preserve all our physical photos, yearbooks, trophies and other memorabilia here on campus while creating a searchable digital archive to share with anyone who has an internet connection. To this end, we have invested in a software platform known as Touchpros.
Utilizing the software, patrons will be able to quickly view both academic and athletic student accomplishments through the years. They can also view yearbooks from 1967-2020 and class composites from 1935 to 2017. Because of the generosity of our donor, we were also able to purchase a 65" Touch Screen Television to allow everyone to interact with the software in the lobby. This "Touch Wall" scrolls through school news, current event photographs and even video when patrons are not interacting with it.
At present we have completed the composite photo archive and the yearbook archive which are viewable through this link: https://mcpirates.touchpros.com/Home2.aspx. When visiting, please select the Alumni & History tab. The composite archive will eventually be searchable by name, but is only available by year right now. Please note, we are hunting for yearbooks to scan and include from the Class of 1990 as well as any year prior to 1967. If you have one we could borrow for this purpose, please contact the high school office.
Throughout the next school year, we will begin working backwards through the years to recognize a wide variety of student accomplishments. In regards to academics, we will feature various individual honors, scholarship recipients, information about groups and officers, as well as awards earned by our various academic teams. On the athletics side, the database will be searchable by individual athlete, team or record. Through the years our students have achieved accolades such as All-State, All-District and All-Conference, Conference Champion, PCL Athlete of the Year, or State Qualifier. Our teams have reached the final four, become quarter finalists, district champions and conference champions. We are grateful to have a platform where the accomplishments of both teams and individual athletes can be shared and updated. We are also excited to publish all of our school athletic records in various sports. Under the heading of alumni and history, we are looking forward to celebrating the accomplishments of our alumni. We are also excited to create a special section to recognize our school community's proud history of military service.
We will publish more information as we expand the archive and add new features. Once it is complete, patrons will be able to search a directory by student name to bring up individual accomplishments, or just search by year, sport or accomplishment. For now, we hope you enjoy the composite photograph and yearbook archive. It is a great day to be a Pirate!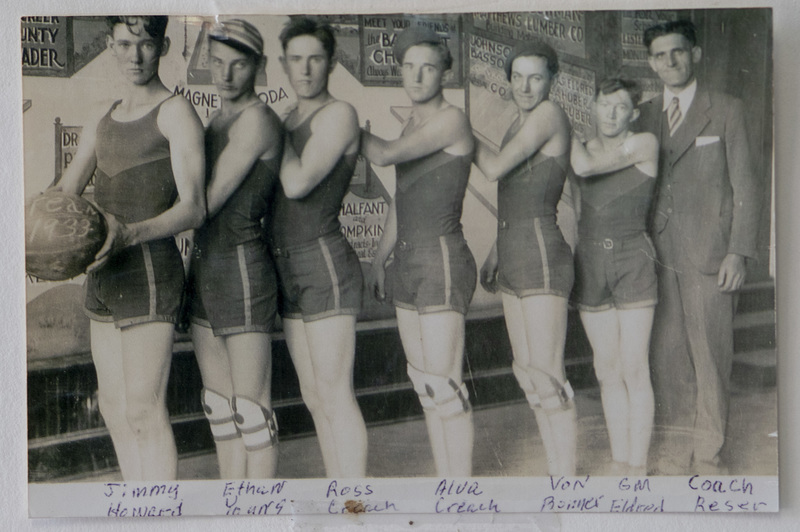 This is one of many photos in the archive. The basketball in Jimmy Howard's hand reads "Team 1933".
#MCPirates