The Macks Creek FFA and Climax Springs FFA joined forces to present Progressive Agriculture Safety Day to share important safety information with elementary students in both school communities. The event was held on Friday, October 14th at Climax Springs School. In total, 184 students and their teachers traveled to our neighbor's campus.
Macks Creek FFA was looking for a community service project when we received a flier from the extension service about the Progressive Ag Safety Day. Climax and Macks Creek both expressed interest and started planning for this event last year. Leslie Lawson with the extension service coordinated and applied for a grant which purchased t-shirts and bags. This is a national program which provided training for the three coordinators: Mrs. Lawson and Miss Fields with Climax and Mrs. Wommack with Macks Creek.
Macks Creek FFA had a member travel with each of our school's elementary groups and helped guide them through six rotations: Electric Safety, Fire Safety, Boat Safety, PTO Safety, ATV Safety, and Sign Safety. Members were Baylee Hash, Aiden George, Ty Glawson, Joe Hufferd, Makenna Campbell, Trenton Arnold and Riley Manning. Three Macks Creek members: Wyatt Brooks, Kamora Merchant, and Kassidy Campbell helped present power take-off (PTO) safety with Greg Wommack. They explained what a power take off is and how dangerous it can be if you have an accident.
Now that the first Progressive Agriculture Safety Day was a success, the FFA would like to make it an annual event. Topics will not be repeated the first 4 years. Fortunately, the weather was beautiful, and our students enjoyed each of the presentations which were held outdoors. The FFA would like to thank the MU Extensions office, each of the presenters and the Camden County Farm Bureau for providing lunch for everyone!
Cassidy Campbell, Makenna Campbell, Ty Glawson and Kamora Merchant pose with kindergarten students after the Power Take-off (PTO) Safety presentation.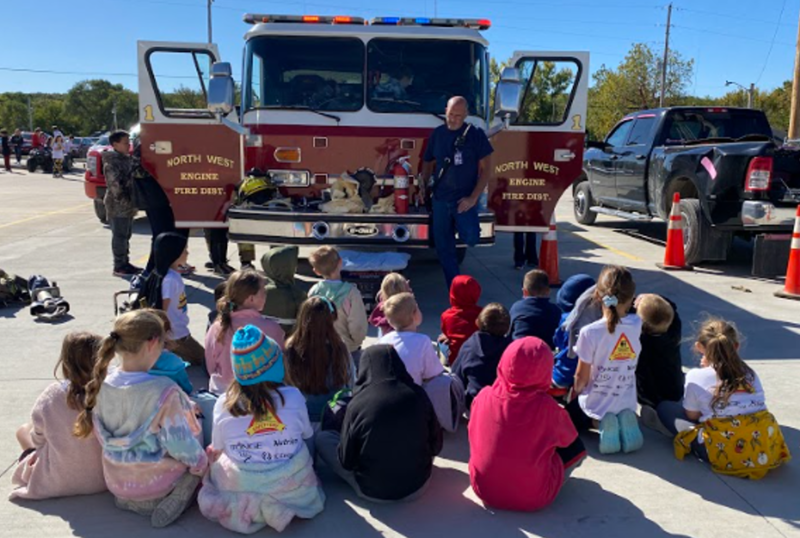 Northwest Fire Protection District shared about fire safety.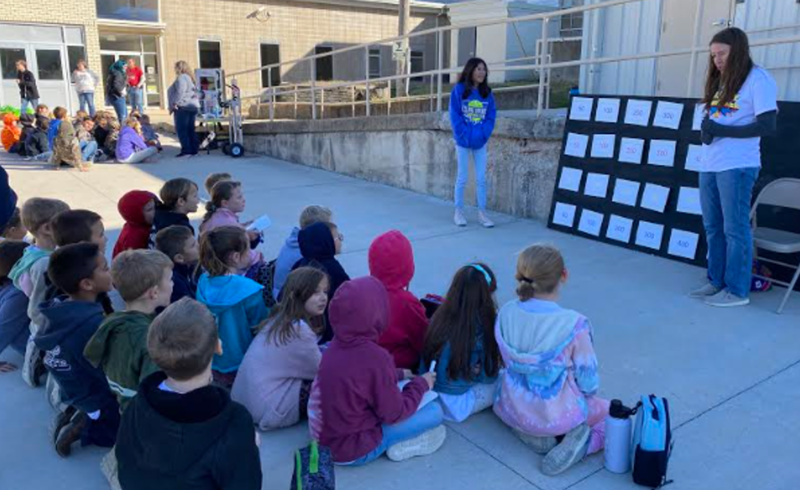 Students played "Safety Jeopardy" reviewing all of the important safety information gleaned throughout the day.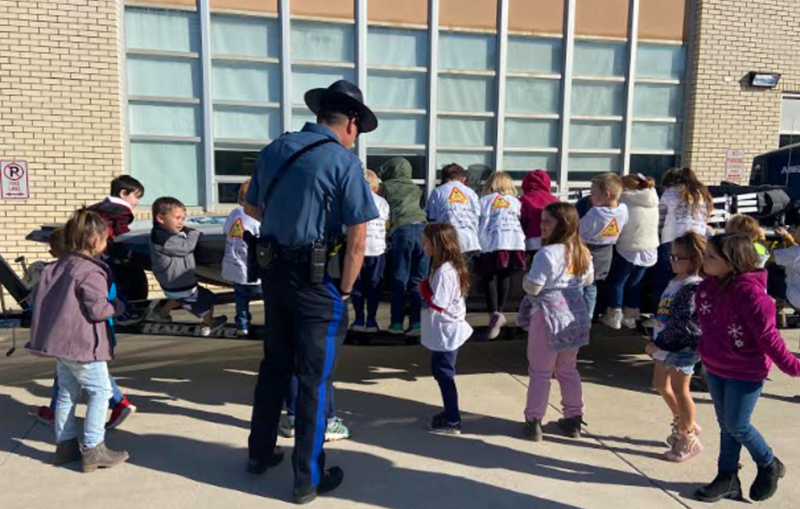 The Missouri Highway Patrol shared information about water safety.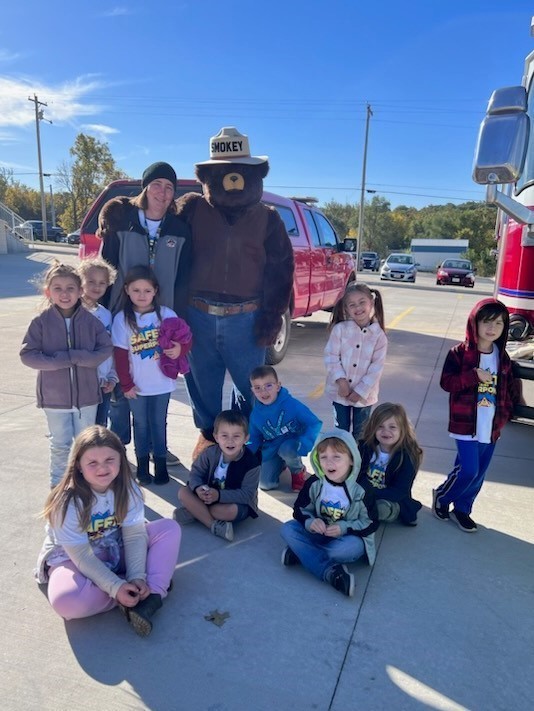 Smokey the Bear took a break from fighting forest fires to pose for this photo with Mrs. Moots and students from her class.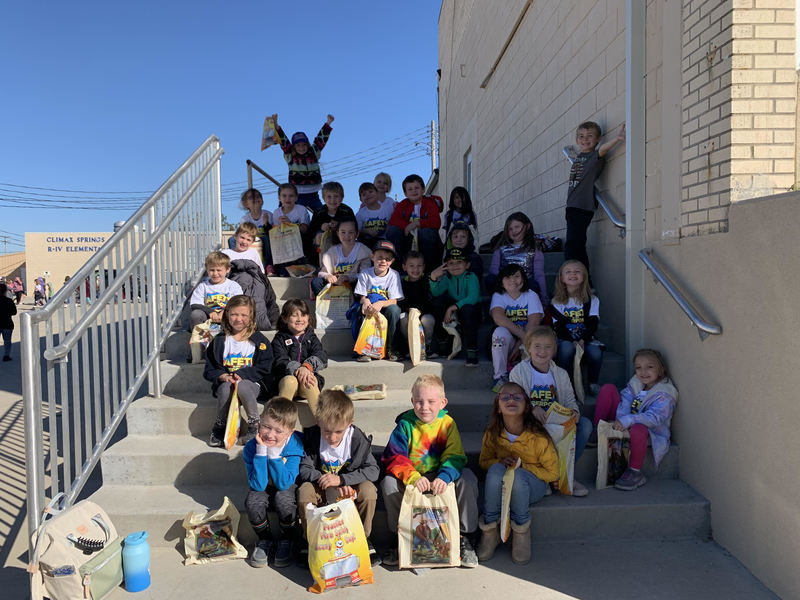 Mrs. Tower and Mrs. Jones' 1st grade classes taking a short break from all of the action.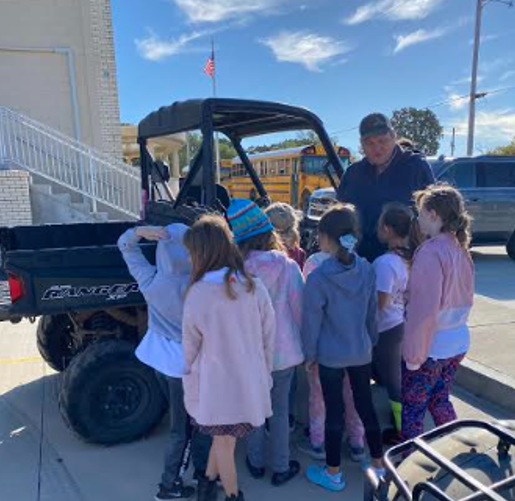 2nd Grade students learning about UTV safety.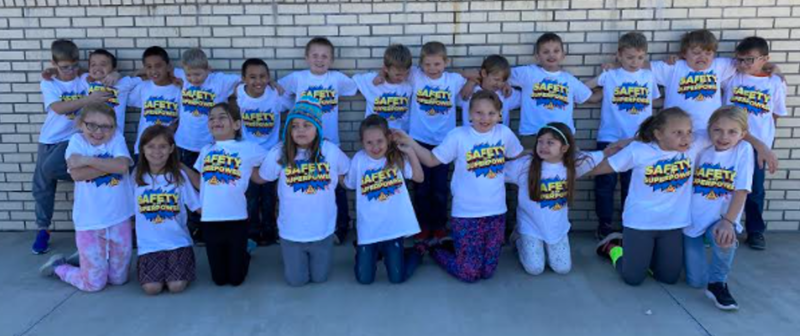 Mrs. Green and Mrs. Willis' students pose for a photo to show off their new safety t-shirts.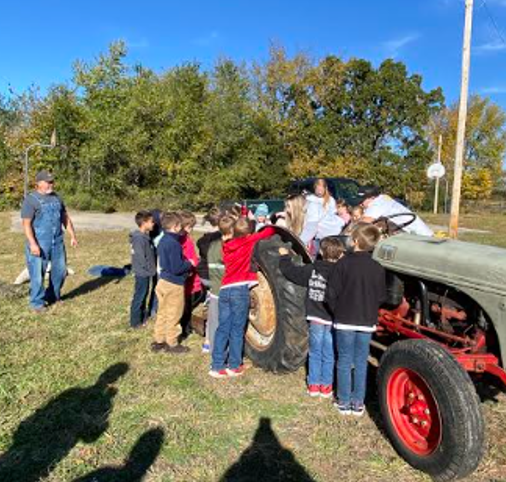 Students learning about PTO safety.
One can't ever be too careful when using an ATV or UTV.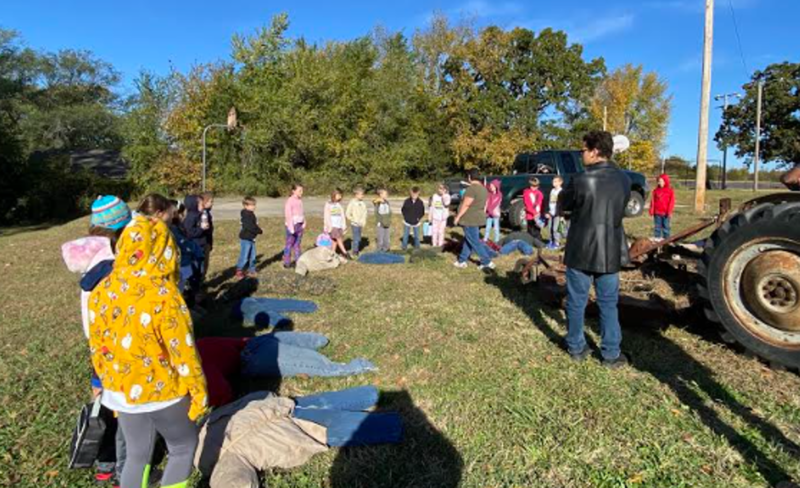 FFA member Aiden George and Macks Creek VO-AG Teacher, Mrs. Wommack sharing about PTO safety.
#MCPirates